Classic Rock Should Thank Wayne's World!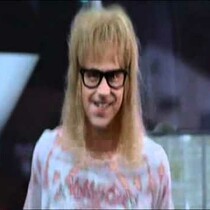 Posted March 29th, 2013 @ 7:22am
Yesterday I was here in the studio listening to "Foxy Lady" & started thinking about Garth doing a little foxy dance in the donut shop and then had an epiphany. If it weren't for Wayne's World, I would not have learned all the words to Queen's "Bohemian Rhapsody," Jimi Hendrix's "Foxy Lady" and Sweet's "Ballroom Blitz" just to name a few. I'm telling you, I knew all the words to these songs when I was like 10 because of this movie.
I had never heard the songs on the radio because I was busy listening to Madonna & Paula Abdul BUT guess what...I went out and bought the cassette (or had my mom do it, clearly) and I learned all the songs. So Classic Rock can say a big fat Thank You to Wayne's World for introducing Generation X to this world of Rock N Roll.
Enjoy two of the greatest movie scenes of the 90's below: