Be a volunteer at Stand Down 2018!
You can volunteer with for Stand Down 2018 with "JUST CALL US VOLUNTEERS"
Start Time: 10:00 A.M
Sun, July 1, 2018
10:00 AM – 3:00 PM PDT


Just Call Us Volunteers
4445 Clairemont Mesa Blvd
San Diego, CA 92117
Location: Just Call Us Volunteers Kitchen (4445 Clairemont Mesa Blvd SD CA 92117)
STAND DOWN DOES NOT ALLOW CHILDREN TO VOLUNTEER. ALL VOLUNTEERS MUST BE 18+. THIS DECISION WAS MADE BY AN OUTSIDE ENTITY AND IS OUT OF OUR HANDS.
We love our young volunteers and look forward to having them join us at our other events.
Support JCUV with a custom designed Stand Down T-Shirt!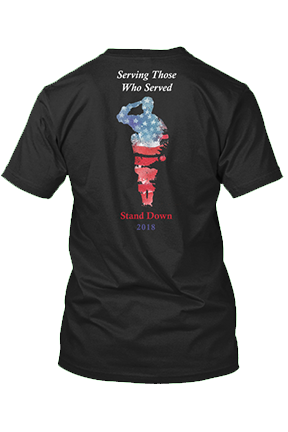 SUGGESTED DONATION: Just Call Us Volunteers operates only on donations and has no paid staff. Although your time and participation is most valuable and cherished by us, if you have the financial means available a suggested donation for participating in volunteer events is $20. All funds collected will help us keep the lights on at JCUV and aid in purchase of the basic necessities we need to serve the meals, such as plates, napkins, utensils, tablecothes, etc. JCUV is an all volunteer effort and all of our funds raised directly support feeding the homeless. No one will be turned away to volunteer if they cannot make a donation. And as always, all donations are tax deductible.
Sign up here to join us. One person per registration. No need to bring your ticket. Signing up for a Prep & Serve shift includes helping prep, cook, serve on site and clean up.
Professional chefs welcome but NO experience is required - just bring a good sense of humor and roll up your sleeves. Gloves and aprons are provided. No need to bring any supplies.
For volunteer safety, please wear closed toe shoes, comfy clothes (no tank tops) and put your hair up. Your registration also means that you understand that you are volunteering at your own risk. Waivers will be signed for each person upon check-in prior to working in the kitchen.
If you are unable to attend after signing up, please notify us as soon as possible at info@justcallusvolunteers.org so that we can recruit others to cover your shift.
See you at the kitchen!
Chef Julie Darling
Hepatitis A Notice: San Diego recently experienced an outbreak of Hepatitis A among vulnerable populations, including the homeless. It is not required, but you may want to have a Hep A vaccination. You will be asked to sign a Hep A release/waiver form. Shots are available at many pharmacies for a nominal cost. There are free shots available around the county, see the link below for more information
http://211sandiego.org/resources/health-wellness
Legal stuff because we must: Registration for this event constitutes your permission for Just Call Us Volunteers to take and use photographs and/or digital images of you, your children or any volunteer at the event for use in news releases and/or educational materials. These materials might include printed or electronic publications, Web sites or other electronic communications. You further agree that your name and identity may be revealed in descriptive text or commentary in connection with the image(s). You authorize the use of these images without compensation to you. All negatives, prints, and digital reproductions shall be the property of Just Call Us Volunteers. All volunteers serve at their own risk. We reserve the right to ask any volunteer to not volunteer if they pose a safety, sanitary or sanity problem for anyone.