DSC 2.07 - You Bet Your Ass" Setting Off Mouse Traps
The DSC Show for Thursday 2/7/19: "You Bet Your Ass" Setting Off Mouse Traps, San Diego Chicken In Studio and more! 
Listen to the podcast below.
Are you planning to celebrate Valentine's Day next week or not?
With Valentine's Day a week from today, consumer spending is up for the day though fewer Americans are actually planning to celebrate this year. According to the National Retail Federation, Americans plan to spend an average of $162 on their loved ones. That's up 13% from last year and easily tops the previous record set in 2016.
However, only 51% of Americans say they'll celebrate Valentine's Day this year, down from 55% last year. The number of consumers that celebrate Valentine's Day has trended downward over the past 12 years while spending has generally been on the rise. Experts say the strong economy could be the result of record spending this year.
Photo by Getty Images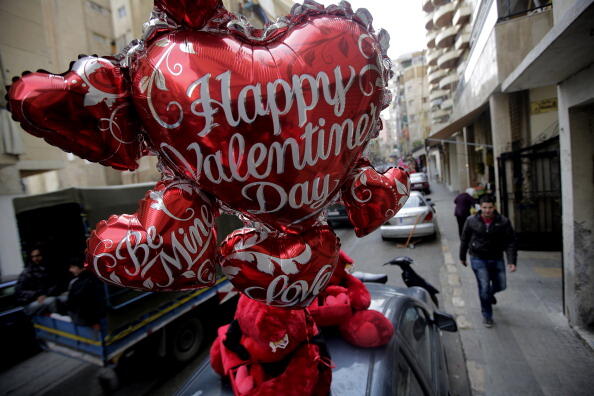 You Bet Your Ass game!
Winner gets tickets for KISS tonight in SD!
Team Brit Brit = Boyer and Sarah
VS. Team Tom Tom = Emily and Chainsaw
Sit on live mouse traps instead of a spanking today as punishment for missing a point. Team members Sarah and Chainsaw take the punishments today!
Yellow items in the produce department . Chainsaw name 5 in 30 seconds. Banana, lemon, squash, - he sits on 5 mouse traps!
Songs by Kiss. Chainsaw has to name 3. Beth, I wanna Rock N'Roll Everyday, The Face Painters = Chainsaw has to sit on 3 mouse traps now!! And has two strikes. One more and you lose.
Vice Presidents of the USA - Chainsaw can name 8. Pence, Biden, Johnson, Nixon, Gardner, Hamlin, Truman, Humphrey! He did it so Sarah has to sit on 8 mouse traps!! And Team Brit Brit get a point against them. So it's 2-1.
Disney Princesses -  Sarah can name 5. Ariel, Anna, Elsa, Belle, Snow White! She did it, so Chainsaw gets his third strike and Team Brit Brit wins!!! Chain has to sit on 5 mouse traps!
You can watch Chainsaw and Sarah take their punishments in the video below.
The San Diego Chicken stopped by to visit us today in the KGB studios - back where it all started. You can see all the pics we took by going here .
The San Diego Padres are having a special day at Petco Park to celebrate their 50 year anniversary and the SD Chicken on July 27, 2019. Everyone gets a free Chicken bobblehead. The Chicken said, "That night will be so much fun, Petco Park should be called Animal House."
You can buy your Padre tickets for that special night right here.
Photo by Getty Images