The DSC Show for Wednesday 7/11/19: Baby Mix Up, You Bet Your Ass, Boyer Loves Sarah and more!
Here are some of the things we learned today on The DSC Show on KGB.
Would you rather for Sarah - be naked in bed with Boyer OR naked in bed rolling around with a naked zombie? Sarah and Ruth both chose the Zombie. Would you rather for Ruth: have a drawer full of Bromo's thongs or Boyer's 'aperture underwear' for YBYA? Ruth chose Bromo.
Dave took us back in history with a story of Bromo and his love of foamed milk - which gives him IBS. One time at The KGB Sky Show, he was wearing a thong and a red cape as he pulled Dave into the Sky Show Village -- in a chariot. As soon as Bromo was done, he hopped into the hot tub full of hot chicks and immediately left a "plume" in the water! Please go here to get details on this year's KGB Sky Show.
It's 7-11 DAY! Get yourself a free slurpee at 7-11 today from 7am to 11pm. More details here.
Philly has a new gizmo to keep kids from loitering in their parks late at night. It's a box on the side of a building that makes a whiny, high pitched, annoying noise that only young people can hear. Check it out here and see if you're too old to hear it.
Dave used a giant magnifying glass with a light on it to peak inside of his ear buds. He says don't do it! He found the Chilean miners in there and will never share with anyone again.
Email from Robert: Hate when you talk about "Gone with the Wind" - such an awful movie my girlfriend drags me to. But he also hates that we don't like "Dr. Zhivago," which is a much better movie.
You're at your friends house with their kids and your kids. They have an inflatable swimming pool. You have to get it home and you can't deflate it. What do you do? You put it on the roof of your car and put the kids in the pool to hold it down! The mom got arrested. Read more here. We played a round of You Bet Your Ass today on KGB. You can watch Boyer take the ass punishment here. But one listener noted, "When Boyer is annoyed at Chainsaw he calls him 'Jug Head.' But when he's really mad at him, he calls him 'Dick Head.'" Very observant and so true.
Hail the size of oranges fell in Italy. 18 people were injured. You can see some pics here.
In GA, an armored truck filled with cash had the door blow open and $175,000 in bills flew out of it - all over the highway! People immediately pulled over to collect the cash, even though they were supposed to give it back. Cops said only $4,000 was returned. Watch the video here.
The US Women's Soccer Team celebrated in a ticker tape parade in NYC Wednesday.Then they immediately hopped on a plane for LA to win Best Team of 2019 at the ESPY awards. The women won two world championships in a row. 
The DSC Celebrity Death Czar Ruling: Violet from "Willy Wonka and the Chocolate Factory," Denise Nickerson died. Sadly, she didn't make it in. 
Someone licked a tongue depressor then put it back in a doctor's office. The woman's mother shot the video which can be seen on our website here. Mom said, that's what happens when you make us wait so long.
Ruby Roman grapes were auctioned off this week in Japan for $460 per grape. We were reminded of the discussion among the crew where some of us think it's okay to taste a grape before you buy them. Might not be okay in this case.
The "Swingfield Festival" in Europe is the biggest swingers party in the world. One 52-year-old woman came to play - and had a heart attack. The play stopped temporarily, but she lived, so they resumed the action. Read all about it here.
Photos by Getty Images
Is there anything you do that you thought everyone could do?
Put sunscreen on your own back.
Only take a shower in the dark.
Has a super soaker fight with his family every Easter
Loves the smell of freshly turned on air conditioners.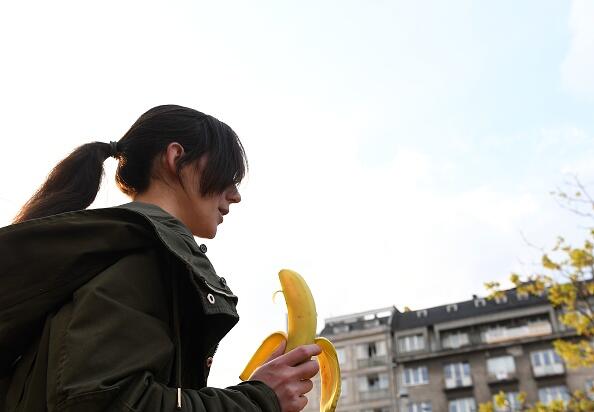 Thought bananas were spicy, but he's allergic
Regularly goes seven days without pooping.
Counts the number of chews on each side of his mouth to make sure there's an even amount.
Boyer enjoys the farmer blow
Sarah thought everyone can wiggle their eyes like she does.
Cut their own hair at 3am when stressed out.
Cries when he poops.
Marks his socks right and left to make sure he got it right.
Cleans out his belly button with a Q-Tip.
Loves the smell of the vacuum when you first turn it on.
Photos by Getty Images
Here's an example of someone who can "wiggle her eyes." She found out - not everyone can do it.