The DSC Show for Thursday 8/01/19: The Bacon Brothers, Seeing an Ex, Cat-chelors and more!
Here are some of the things we learned today on The DSC Show on KGB.
TV Host, Mario Lopez is taking crap for his opinion on transgender children.

Why isn't actress Kelly McGillis going to be in the new Top Gun movie?

Tom Cruise will be starring in the new Top Gun 2

Val Kilmer will also be in the next Top Gun movie.

Emily's boyfriend will be on TV tonight!

Will NFL legend, Nick Buoniconti make it into celebrity heaven?

Is Bromo a Cat-chelor?

Congrats to the Nikki Sixx fam!

Metallica saved a life!

Julianne Hough just told her husband something most people tell BEFORE they get married.

Dave interviewed the Bacon Brothers today on KGB!
TV host, Mario Lopez got in trouble for his opinion about transgender children. He said it was "dangerous" for parents to let their three-year-olds determine their gender. Twitter was trending in their angst and outrage over this. But Mario's publicist told him to release an apology for being insensitive to the needs of transgender children. Details here.
Why isn't Kelly McGillis in the new Top Gun movie? The 62-year-old says she wasn't invited, plus she's old now and looks her age, and she's also fat. She's just not part of that world anymore. She seems okay with it, as you'll read here. The 57-year-old Tom Cruise and 59-year-old Val Kilmer will star in 'Top Gun 2,' despite their advanced age.
Football is on TV tonight! It's the annual Preseason Hall of Fame game in Canton Ohio, with the Broncos and Falcons on NBC at 5 pm. Emily's boyfriend, Chris Collinsworth will host. Death Czar ruling: 78-year-old, NFL Hall of Famer, Nick Buoniconti died. He didn't get in. But Dave welcomes him to Celebrity Death Purgatory.
A 37-year-old man straightened out his mom's house after she died. He found a cake in the freezer that he was told was a wedding cake topper that's been there his whole life. He thought, maybe it was money and decided to open the box. It was a frozen baby wrapped up in the freezer! Details here.
When Chainsaw cleaned out his parents home, he found a bag of porn from the 1950s at the top of his Dad's closet. He also discovered a giant piece of foam attached to the back of the headboard on his parents' bed to soften "the sounds of Hallie getting it from the Dickster!"
It's Thursday, so that means we played America's favorite radio game, "You Bet Your Ass!" It's Boys Team vs. Girls Team and the Boys won the last two in a row and are looking to three-peat. You can see the Lego Sitting Ass Punishment video and game details here. Emily and Sarah's trip is coming up - one week away - and she's already had a nightmare about it. If you haven't heard, Sarah has a monster fear of flying. The crew - except Emily - decided she should drink tequila and take some pills to make it doable. Listener Tricia sent over some special barf bags too.
Is Bromo a 'Catchlor?' If a bachelor has a cat instead of a girlfriend, he's now called a Catchlor! Bromo is ahead of his time. A survey says one in four think it makes them seem more loving. One in five single men thinks owning a cat has a positive effect on their romantic life. One in six cat-chelors claims having a cat has helped them land more dates. Bromo admits to showing pics of his cats to women.
Congrats to Nikki Sixx and his wife, as they welcome their new baby girl into the world. Baby Ruby is their fifth child.
A Vegas Pizzeria is looking to cash in on the valley's grasshopper invasion. 'Evel Pie' is selling one with lime and garlic roasted grasshoppers, topped with caramelized onions, chorizo, and goat cheese. Ruth says she will eat a slice for $50. The team is now working to make this happen.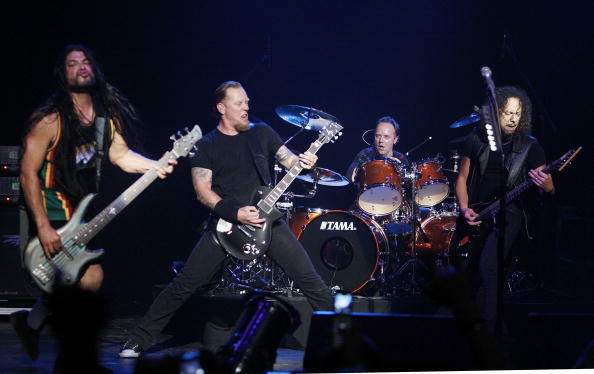 Rock music saves lives. A woman in Canada scared away a wild cougar by playing Metallica. The woman encountered the big cat while walking her dog. When it approached, she tried to wave it away and shout. When that didn't work, she whipped out her phone and blasted what she figured was the noisiest things on her playlist. It worked! The cat booked. Thanks, Metallica!
Dancer and Judger Julianne Hough got married in 2017 and she's just now telling her hockey-playing husband - she's not straight. She tells the story here along with some nude pics.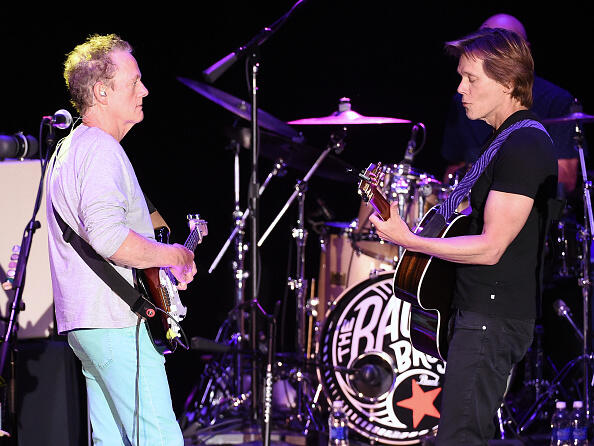 Special guests on our show today were The Bacon Brothers. Actor Kevin and older brother Michael are performing at the Belly Up Tavern in Solana Beach on Monday, Aug 5th. Get tickets here. You can learn a lot more about them here. Listen to today's podcast for the stellar interview.
Photos by Getty Images
A guy came into his wife's hair salon for a haircut. She had not seen him in 15 years, but they follow each other on Facebook. He's in town training to become a detective. He looks like Brad Pitt and wants to take his wife to dinner - alone. The couple has a two-year-old and happy marriage.
The husband doesn't want this guy anywhere near his wife, especially because they use to write love letters to each other. Husband says hell no to dinner and wants to know if we think he's overreacting. Is he?
Dave - it would be an evening he would hate and he might not get over it. Even if she doesn't have sex with him, he would feel awful.
Emily - She trusts her husband, but doesn't trust the woman.
Boyer - let her go, but bust a nut in her first so it will be messy when she sees him. He assumes she'll have sex with him.
Chain - He's definitely not overreacting. Just no.
Ruth - He's not overreacting. He's just telling the truth about the way he feels and she should respect that.
Sarah would never allow it. She would feel horrible the whole time waiting for him to come home and expecting the worst to happen.
Dave says a common answer comes up in these situations and you'll win KGB Sky Show tickets if you come up with it. WINNER - Listener Angela says you have to be secure in your marriage and let her go. Dave hates that answer! You can still be secure and not want her to go.
Email to the show:
A Listener tied what we talked about yesterday with this scenario saying, if your wife wants an open relationship, she already has someone lined up. He thinks that's what's happening here.
Detective guy is testing the waters and one listener finds it disrespectful to consider having dinner with an ex - any ex. You can't date anymore, once you get married.
Please feel free to email us anytime at DSC@101kgb.com
Photos by Getty Images