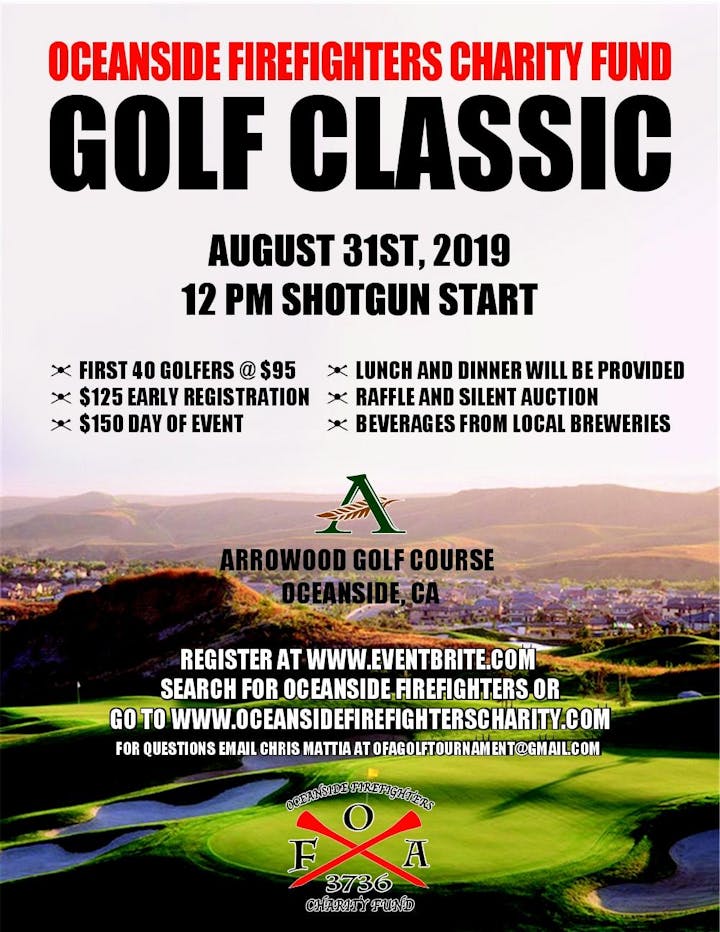 Bust out the driver for the Oceanside Firefighters Charity Fund Golf Classic!
About this Event
The Oceanside Firefighters Charity Golf Classic is an essential fundraiser for the Oceanside Firefighters Charity Fund. Held locally in Oceanside, our event attracts all levels of players. The money raised will be utilized to educate and support the great community of Oceanside. Come join us for a full day of golf and fun while raising money for a good cause!
Lunch and dinner provided
Raffle and auction items
Beverages from local breweries
****DISCOUNT ALERT****
How do I get the homie hook up? Post a picture of our flyer on any social media and receive a promo code for an additional ticket discount!
1. Copy and paste the flyer below
2. Post the flyer onto any social media
3. Email the address below for proof of post. (Any proof works) OFAGolftournament@gmail.com
4. Receive code via email
5. Plug that sucker in upon ticket checkout and reap the rewards!
Please email Chris Mattia with all questions OFAGolftournament@gmail.com
For more information regarding the Oceanside Firefighters Charity Fund please visit us at Oceansidefirefighterscharity.com
For more information about the Oceanside Firefighters Association 3736 please visit us at Oceansidefirefighters.net