DSC 4.4 - Ass-Kissing with Spiders, Annoying Mispronounced Words
The DSC Show for Thursday 4/4/19: Ass-Kissing with Spiders, Annoying Mispronounced Words and more!
Listen to the podcast below.
Here are some of the things we learned today on The DSC Show on KGB.
Boyer triple-scrubbed his ass with Irish Spring soap for Chainsaw's lips today in preparation for "You Bet Your Ass."
That reminded Dave of the old Irish Spring soap commercial where a dude whips out a knife and shaves off a piece of the bar to show the rich layers inside the soap. Dave said he did that once when he was a kid and his Dad got really angry. He's not sure if he was mad about wasting the soap or using his Cub Scout knife. Flash back in time and watch the old commercial below. You can also see the video of the literal ass kissing here from today's game.
San Antonio Spurs coach, Pop, Gregg Popovich, got kicked out 63-seconds into the game last night where they lost to the Nuggets. It's the second time in the past three games Pop has been ejected, and it may have been a record for the quickest ejection of a coach in NBA history. He was also tossed in Sunday's 113-106 loss to Sacramento, but that ejection came in the third quarter.
Forget the goats and dogs, the latest craze with Yoga is adding Lemurs into the mix. It's also called "lemoga" and is now a thing at a hotel in England. I hate to admit it, but the pics look pretty darn cute.  Check it out here.
Would you rather for Ruth: Lebbie (LeBron James new nickname) has another deadweight year with The Lakers but President Trump gets defeated OR Lebbie wins an NBA title for the Lakers and Trump gets to be president as long as he wants. Ruth obviously chose the first one, because she's more of a patriot and a bandwagon fan. (Laker fan since 1980.)
"Garbo blows" texts Chainsaw to Dave last night at 8:45, even though he claims to go to bed at 6pm every night. Dave was sure Chain must be "sleep texting." Chain says Garbo is the most overrated actress of her time. Sleep texting is now a thing. Have you done it? Emily admits to doing it, but she also sleep walks and talks in her sleep. Read more about sleep texting here.
Dave recently saw "The Old Man and The Gun," with Robert Redford. It was just okay. At the time of filming, Redford said it would be his last movie as an actor. But after it came out, he changed his mind. He probably wants to go out with a bang instead of a whimper. Dave is still living on Starz, Western channel. Says it's the best thing on afternoon TV.
Happy National Burrito Day!
And there was something said about Ruth giving a handy to a 92-year old man. But you'll have to listen to the podcast for the dirt. Eeewwwww!
Photos by Getty Images
Irish Spring is a 70's memory for most of us, but Boyer still uses that soap. Watch the video below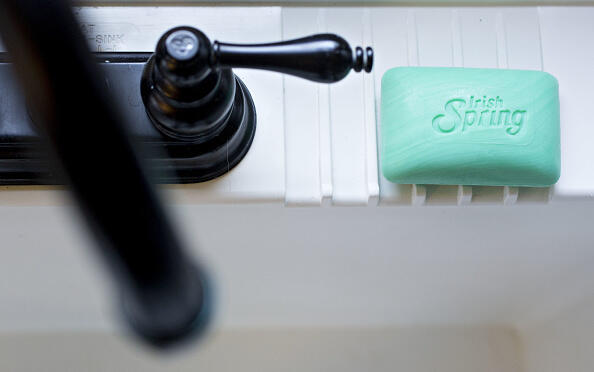 that made Dave copy something at home. We played a round of 'You Bet Your Ass!'
(You can watch the ass-kissing parts on video here.)
Team Tom Tom - Emily bids for Chainsaw today. (Listener Scott rooting for them.)
Team Brit Brit - Boyer bids for Sarah today (Listener Tom rooting for them.)
Everytime they miss a question, they get one strike. Three strikes you lose. Team Tom Tom is currently winning 5-3.
Movies that take place on airplanes. Chainsaw has to name 6, which he could not. Strike for Team Tom Tom. Boyer has to kiss Chainsaw's ass 6 times now. (He brought rubbing alcohol and blue rubber gloves to clean it down first.) 1-0
Different types of fish. Sarah has to name 7 which she did, so Chainsaw has to get his ass kissed by Boyer again, 7 times.
How many of Snow White's dwarfs can you name? Sarah has to name all 7 of them, but she only named 6, so Sarah has to kiss Emily's ass 7 times. (She had a big fake spider tattooed on her ass which caused Sarah to shriek loudly and run away.)
Names of convenience stores. Sarah has to name 6 which she did not. Sarah has to kiss Emily's ass 6 times. Emily had another spider tattooed on her other cheek. Score 2-2.
Models of Ford vehicles. Chainsaw has to name 6 which he did, so Team Tom Tom wins the game! Sarah has to kiss Emily's ass 6 times now.
Listener Scott wins!! Tickets to see Peter Frampton in October at Cal Coast Credit Union.
Team Tom Tom is now 6-3.
Question to Boyer: Which one was worse; kissing Chainsaw's ass or having Chainsaw kiss his ass? He said he liked Chain kissing him much more.
Photo by KGB/iHeartMedia