The DSC Show for Thursday 2/28/19: Bug Zapping Asses, Best Lies Ever, Reporter Gets Licked and more!
Listen to the podcast below.
Here are some of the things we learned today on The DSC Show on KGB.
Lady Gaga was on Jimmy Kimmel's show talking about Bradley Cooper

Camel Spider - in your shoes?

Found a mouse in her shoes

Is the third time the charm for Johnny Manziel?

Lady Gaga talked about her 'love' for Bradley Cooper on Jimmy Kimmel

They sure LOOKED like they were in love!

One month until baseball begins!
We went back in time early this morning. So happy to hear Jay Reed Stevens wheeling and dealing with Bromo's Dad, Wayne. He wanted $300,000 for Bromo with Dave as the Monkey Boy and to get rid of Chainsaw! So good. (You should really listen to the podcast to hear it with the puppet voices.)
Listener Carrie wrote in and said, yes she bangs her shoes together everyday before she puts them on, because one time there was a mouse inside her shoe! Acckkk!
Chip in Afghanistan wrote to Dave at DSC@101kgb.com. He had a camel spider stuck inside his shirt! At first he thought it was a dryer sheet until he shook it out! Yikes!
Johnny Manziel might go to the AAF, Alliance of American Football! He got kicked out of his Canadian team, so maybe he'll try the AAF next. The third time might be the charm for him.
We are one month away from opening season of the MLB on March 28th.
Last night, Jimmy Kimmel asked Lady Gaga if she and Bradley Cooper were an item. She said 'when singing love songs, it should look like we're in love.' They fooled everyone!
Photo by Getty Images
We played You Bet Your Ass today! Ass punishment was in the form of an Electric Fly Swatter!
Team Brit Brit = Sarah and Boyer - won 2 games so far
Team Tom Tom = Chainsaw and Emily - won 2 games so far
Boyer and Emily are taking the punishment today - an electric fly swatter. Chainsaw and Sarah place the bets. Once a team gets three strikes - they lose the game.
Words that begin with an X. Emily had to name 3 and she did, so Boyer gets spanked 3 times by Chainsaw! Team Brit Brit has one strike.
How many books of the Bible can you name. Boyer has to name 7 and he did, so Emily has to take 7 spanks with the electric fly swatter by Sarah. Team Tom Tom gets one strike. Score: 1-1
First names of Kardashians and Jenners. Emily named 6, so Boyer gets spanked by Chainsaw. Team Brit Brit has two strikes. 2-1
Male names that start with K. Emily has to name 7, but she didn't so she gets spanked by Sarah 7 times. Team Tom Tom has two strikes, so the score is 2-2.
Actors who've played superheroes. Boyer has to name 6, but only named 4. So he has to take 6 final spankings and Team Tom Tom wins the game 3-2! 
Team Tom Tom won 3 in a row and they're ahead, 3 games to 2 games!
If you haven't seen the spanking video yet - please go here immediately.
Photo by KGB/iHeartMedia
I have some stellar lies for you, but first a new survey about lying and people lying about lying.
A survey asked people if they lie on a regular basis. Four out of ten said yes. I guess the other six are in denial, or don't even realize they're lying.
The survey also laid out some ethically questionable scenarios to see what people would do, and here are the results.
 53% of people wouldn't say anything if they got too much change back at a store.
 48% would pocket cash that someone else left in an ATM.
33% say they'd keep a LOT of money that didn't belong to them, roughly $325,000, if they knew they could get away with it.
 And only 30% would tell a friend if they found out that person's significant other was cheating on them.
Best Lies Ever!
When she moved in with Steve, three months in, it was because she lied about being evicted.
Best friend and she wanted to see Blink 182 but couldn't afford it. They told everyone they were speaking for God at an 'awful secular concert.' They made a profit.
Told Mom that George Michael was a religious singer so she could to to his concert. Mom knew the truth when he sang 'I want your sex.'
She texted her boyfriend pretending to reply to another guy. There was no other guy and it worked. We've been married 12 years.
Had a law school professor who was a bad drunk. He stared at him for a full minute without saying anything to trick him into thinking he answered his question. It worked! He said 'very good' and moved on.
Lied to her kid that Barney died so they didn't have to watch him anymore.
When he was in fifth grade, he didn't want to write a paper about the constitution - so he didn't. When everyone else got their paper's handed back, he asked, 'where's mine?' It worked. Teacher said she remembered reading it and gave him a 90!
His SAT question was, 'Can lying ever be justified?' He said yes when he lied to a dying friend - which was a lie, but it was justified for getting a good grade from the lie.
A friend in college was in an accident and got amnesia. A girl he hooked up with one time showed up at the hospital and told him they were in a relationship. He bought it and they got married.
She told everyone she was 42nd in line to the throne and everyone believed her- including her best friend until she fessed up six years later.
Photo by KGB/iHeartMedia
ESPN writes, "In a season full of memories and a career full of Hall of Fame highlights, Dwyane Wade created the most memorable moment of his final NBA season Wednesday night by banking in a one-footed 3-pointer at the buzzer to lift the Miami Heat to a 126-125 win over The Golden State Warriors.
You can watch this magic moment - and some others leading up to it - in the video below.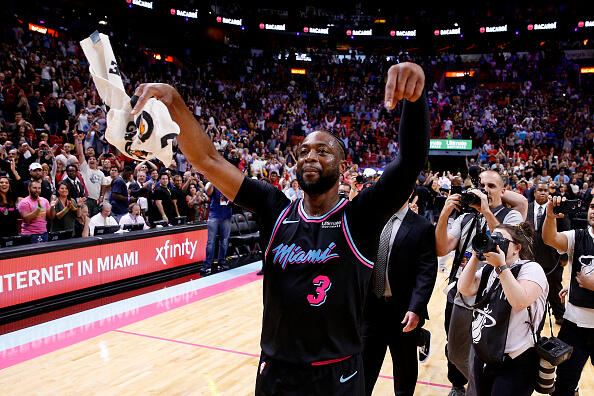 In a season full of memories and a career full of Hall of Fame highlights,