DSC 2.14 - Dominatrix, Horror Stories, What Not To Gift For V-Day Special
The DSC Show for Thursday 2/14/19: Valentine's Day Horror Stories, YBYA With a Dominatrix, and What Gift Not to Give on Valentine's Day and more!
Listen to the podcast below.
Here are some things we learned today on The DSC Show:
Happy Valentine's Day on this rainy day. Only Dave, Sarah and newly married Anna will be celebrating today. Chainsaw has given up on this fake holiday, while Emily hates it. Boyer and Ruth are alone so they got nothing.
The winter phrase that excites baseball fans, "Pitchers and catchers have reported!" The big money guys don't have to report til Monday. Opening day is six weeks from today at Petco Park against the SF Giants.
Fondue is a Valentine's Day food for lovers because of the sharing.
The San Diego home opener for the AAF happens on Sunday at 5pm at SDCCU Stadium, with the San Diego Fleet taking on the Atlanta Legends on Fox 5 TV.
Photos by Getty Images
A Professional Dominatrix called, Mistress Delilah "Demeaner" paid us a visit today.
She joined us to dole out the spankings for our new, fun game - "You Bet YOur Ass!"
You Bet Your Ass Game with Valentines theme
Team Tom Tom = Emily and Chainsaw
Team Brit Brit = Boyer and Sarah
Romantic nicknames for your lovers. Emily has to name 7. She did it so Boyer has to take 7 whacks of the paddle from Mistress Delilah - which he did! Now Team Brit Brit has one X. (3 X's and you're out.)
Kinds of jewelry to give for Valentines Day. Emily has to name 7. Boyer has to take 7 spankings. Has 2 X's.
Different sex positions. Boyer has to name 6. And he did it! Team Tom Tom get first X. Emily takes 6 spankings from Mistress Delilah!
How many words can you make up from the letters in the word Romantic? Boyer has to name 9 words. But he only named 5, so they lose!! Boyer must take 9 whacks. And Team Tom Tom gets its first win!
**You can see the spanking video here on our website!*** You can contact Mistress Delilah here. ***
Photo by KGB/iHeartMedia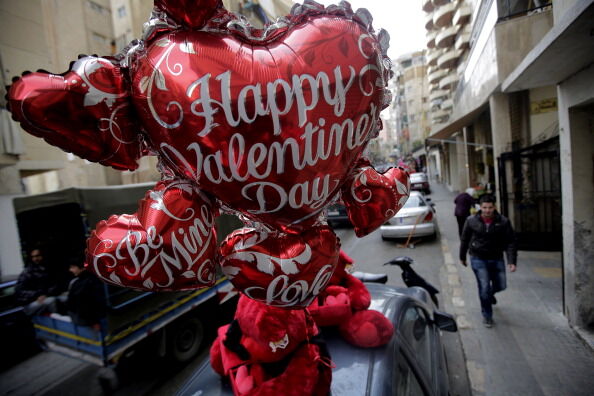 Awful presents on V-Day!
T-shirt with a pic of her guy on it and a list of why he's so great.
New jeans so she would dress nicer.
Drew pictures of people having sex.
Used stained coffee mug covering Happy VD, love Grandma.
Handful of seeds - from his pocket. He's allergic to flowers so he said she should grow her own.
Printed out 12 red roses on paper. No note.
Knee high striped socks - same ones he bought for his so called platonic friend.
Cancelled plans for dinner, then spelled her name wrong.
Teddy Bear with roses! Turns out they were for the neighbor - not HER!
Her boyfriend made her a stick figure drawing with their names above the figures saying they were great friends.
Wrote a newspaper article about her with personal info that everyone got to see.
Flowers stolen from a graveyard.
Balloon that said get well soon - thought it would be funny
Got her a used dog toy of a dolphin.
Got picked up in a limo, wined and dined me all day, then back home in the limo. Gave her a bill of $400 for her half.
Gave her a candle and lotion set that she gave his mom for Christmas
Got chocolates and roses except she's allergic and lactose intolerant
Box of Chocolates mostly eaten by the time he gave them to her.
Finding out she was a married man's side-piece.
Photo by Getty Images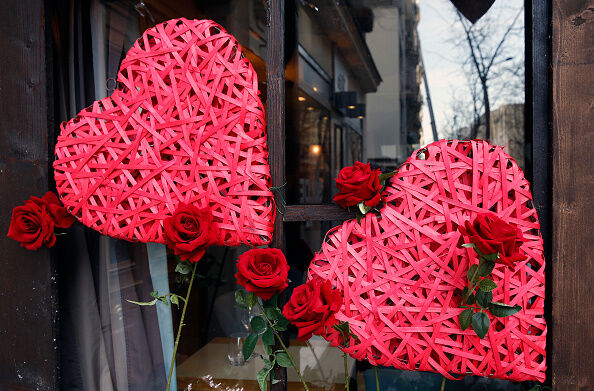 Here are a whole bunch of stats from new Valentine's Day surveys and studies for you today, because analytics equals romance.
Only 51% of Americans are planning to celebrate Valentine's Day. That's down from 55% last year . . . and way down from the record high of 63% in 2007.
But spending will be at an all-time high . . . people will spend an average of $162, up from $143 last year.
Men plan to spend more than double what women plan to spend.
Engaged people spend the most of any type of couples on Valentine's Day . . . people who are dating are second . . . and married people spend the least.
7% of single people say they spend an "unlimited" amount of money on themselves on Valentine's Day.
6% of people have spent more than $500 on Valentine's Day at some point in the past. 4% of people have never spent a dime on it.
The top five things women want to do the most on Valentine's Day are: Go out to dinner . . . get takeout and drink wine . . . have a good conversation . . . have sex . . . and read a book.
The top five things men want to do the most on Valentine's Day are: Go out to dinner . . . have sex . . . get a drink at a bar . . . get takeout and drink wine . . . watch sports on TV.
41% of people who own a pet say they'll probably post a Valentine's Day picture of that pet on social media today. And half of women and a third of men will remember to say "I love you" to their pet.
And a new study found that if, after a lonely Valentine's Day, you're looking for a relationship that could go the distance, it's more important to find someone who's KIND and emotionally STABLE than someone who has a similar personality to you.
According to another new study, 7% of Americans have ended a relationship on Valentine's Day ... and another 5% have ended one right after.
Oh . . . and 7% of people haven't even let a shaky relationship make it to Valentine's Day, and they've dumped someone right before.
The survey also found there's less of a taboo about going on a first date on Valentine's Day than you might think. 55% of men and 47% of women say they'd be comfortable doing that.
Photo by Getty Images
Check out more articles fromThe DSC Show.