DSC 4.12 - Dumpster Diving Boyer, Game of Thrones Facts, 25 Year Old Songs
The DSC Show for Friday 4/12/19: Dumpster Diving Boyer, 25 Year Old Songs, Game of Thrones Facts and more!
Listen to the podcast below.
Here are some of the things we learned today on The DSC Show on KGB.
We found out today that Boyer checks the garbage pile in the back parking lot every morning before work. There's major construction going on at the iHeartMedia building and they leave a giant pile of crap back there. He insists it's not garbage.
Dave talked about getting ragged on for wearing "old man shoes." And then he spent time criticizing women who wear flats. Says they should be outlawed. Check out Dave's shoes on his Facebook page and the 120+ comments here .
The Padres are in first place! Can't remember the last time I wrote that sentence. They won again last night 7-6, while the Dodgers lost. They play in AZ again tonight against the Diamondbacks.
The first master golf tournament of the year happens this weekend. The great Masters Tournament in Augusta is on Sunday on CBS. That's the one with the green jacket.
The NBA Playoffs begin tomorrow! SDSU grad, Kawhi Leonard's Toronto Raptors play Orlando Magic at 2 pm. And the LA Clippers take on the Golden State Warriors at 5pm.
Someone got shot and three others were injured during the Nipsey Hussle processional Celebration of Life through the streets of LA yesterday. Read more about it here.
Amber Heard has returned to talking smack about what a monster Johnny Depp was to her. She detailed violent arguments they had that he often didn't even remember. She claims to still have scars from their fights. Read more about it here.
Jay Cutler helped his wife, reality star, Kristin Cavallari with her clogged milk ducts. He sucked 'em open. Get more details here.
And that inspired Dave's new band name; "Sucked out My Milk Ducts"on KGB-FM!
Is it a bitch move if you're in the drive-thru lane at a fast food restaurant and the car in front of you is spending time at the pre-order menu board, but you know what you want, so you skip ahead of him and go right to the order board? Everyone on our crew - except Boyer - said yes, it's a bitch move. No we don't like waiting, but it's the right thing to do. Boyer thinks it's fine to be a dick. We remembered that he's the one that will stall for time in his car if he see someone waiting for him to leave a parking place.
Photos by Getty Images
$5 Quiz: 25 year old songs (1994)! 
Green Day - When I Come Around
STP - Vaseline
Beck - Loser
The Cranberries - Zombie
Green Day - Basket Case
Soundgarden - Black Hole Sun
Nine Inch Nails - Closer
STP - Interstate Love Song
Green Day - Welcome to Paradise
Weezer - Buddy Holly
Boys to Men - I'll Make Love to You
REM - What's the Frequency Kenneth
TLC - Waterfalls
Nirvana - Apology
Soundgarden - Spoonman
Green Day - Longview
Weezer - Undone The Sweater Song
Madonna - Take A Bow
STP - Big Empty
********WINNER****** CHAINSAW********
$5 Quiz Standings:
Ruthie - Last Place - 10 games back.
Boyer - Fourth Place - 8 games back.
Chainsaw - Third Place
Sarah - Second Place - 3 games back.
Emily - First Place - $135 ahead, batting 412
Photo by KGB/iHeartmedia
Happy National Grilled Cheese Day!
Sam The Cooking Guy stopped by the KGB Studio to teach us how to make a Grilled Cheese Sandwich with Ham.
You can see the delicious looking pics here, plus the video here OR watch the video below.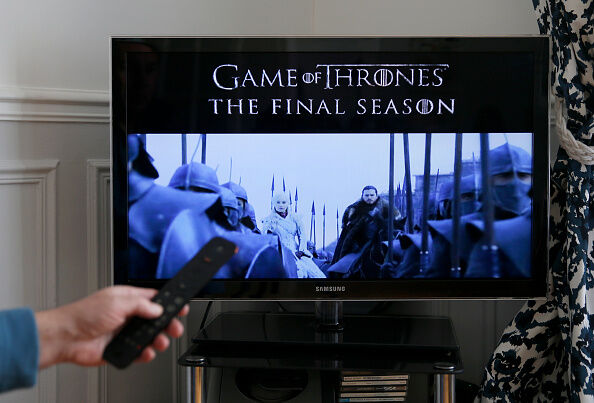 Game of Thrones" eighth and final season begins on HBO on Sunday and to celebrate, we've gathered some fun facts and stats on the show:
The Game of Thrones pack has grown stronger each season.
People who watched Season One: 9.3 million, Season Two: 11.6 million, Season Three: 14.4 million, Season Four: 19.1 million, Season Five: 20.2 million, Season Six: 25.7 million, and Season Seven: 32.8 million.
Production went through A LOT OF SUPPLIES, INCLUDING: 52,000 bags of paper snow, 163 tons of propane, 3,000 pyrotechnic effects, 4,000 gallons of artificial blood, 20,907 candles, 25 miles of rope, 22,966 feet of waxed cotton fabric were used to make more than 330 tent, and 50 miles of fabric were used for costumes.
The construction department used 745 miles of repurposed timber, 60,000 sheets of plywood, 20 million screws and bolts, 65,000 bags of plaster, 1,320 gallons of wood glue, 1,200 blocks of polystyrene, 1,000 sheets of fire board . More than 1,000 miles of cable, and 120 semi-truck loads of reclaimed beams from warehouses and barns from all over Europe.
It took 7 hours to apply prosthetics to the Children of the Forest and the Mountain characters.
Over the course of eight seasons, "Game of Thrones" used 12,137 wigs and hairpieces. And a lot goes into that. Daenerys' wig color and style are the result of more than two months of testing and seven prototypes. That's Emilia Clarke's character.
Over the first seven seasons, "Game of Thrones" has 132 Emmy nominations and 47 wins, and seven Golden Globe nominations with one win.
Season Eight was reportedly its most expensive, with a $90 million budget, which is roughly $15 million each episode. And the main cast members were paid $500,000 per episode. That hasn't worked out for everyone.
GoT has racked up a pretty impressive body count over the years. According to an unofficial fan count, 174,373 individuals have been killed in the first seven seasons.
Another count claims there have only been FIVE episodes where nobody dies on-screen.
And according to yet another study, characters have a 14% chance of dying within the first hour after being introduced on the show. There are 432 minutes left in the series, spread across six episodes.  Season Eight premieres Sunday night on HBO, and the series finale will air on May 19th.
Photo by Getty Images