DSC 1.22: Flight Attendant Wipes Butt, Oscar Razzie Noms, Pence Trump & MLK
The DSC Show for Tuesday, 1/22/19: Flight Attendant Wipes Butt, Oscar Razzie Nominations, Pence On Trump Like MLK and more!
Listen to the podcast below.
Here are some of the things we learned on the show today.
Listener Pete writes: The Wayback Machine was turned on yesterday and he loved it.
Colt opened everyone's presents at Emily's Christmas in Seattle. He also got to fly the plane for a minute! You can see the video on our Instagram page here.
Gladys Knight will sing the National Anthem at the Superbowl on Feb 3rd.
Former Cowboy Tony Romo is an NFL announcer who makes $4 million a year!
Porn might be the answer to the border wall debate. Wait, what?
On the latest Internet Debate where we're asked to simply draw an "X" Dave, Chain, Ruth, Emily, and Sarah do it the most normal way, while Boyer does the opposite.
TSA missed a biggie. A man in Texas snuck through 43 pounds of pot in his luggage! But his bags were flagged and he said he they didn't belong to him. He found them. He's looking at 10 years in prison.
CBS is rejecting a Superbowl ad for medical weed.
Listener Amy had two ASNR's today during the same bit! When flight attendant Sarah, yelled, "We're all gonna die!" and another one when Boyer started moaning and Ruthie lost her damn mind. Nice group effort from the whole crew there!
Photos by Getty Images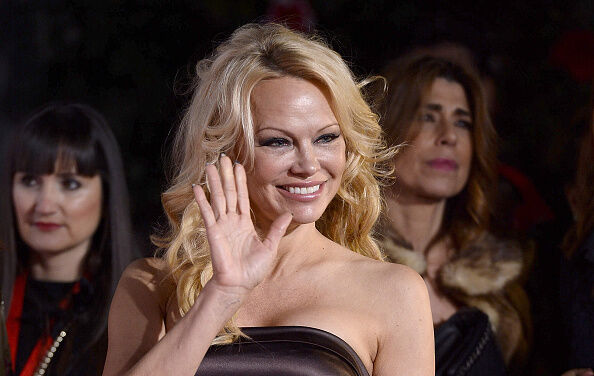 Pamela Anderson says, "Good sex is being ruined by porn and PlayStation."
She thinks men are losing their touch in the bedroom.
Pam's been on an anti-porn kick for a while now. And yesterday she Tweeted, "The worst lovers watch porn: numb, desensitized . . . needing more and more variety even violent. Porn is not what love looks like. Brave and radical men who read and who are engaged in the world are sexy. Vegans make the best lovers . . . it's proven."
As for video games, she says they give guys "empty head disease." She adds, quote, "We've lost many good men to this. GONE, no return."
Photo by Getty Images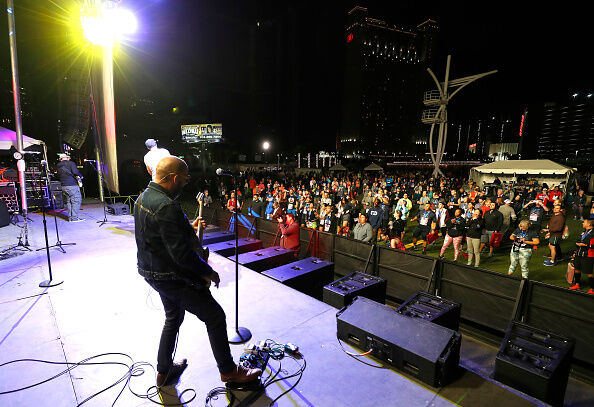 Dave asked the whole crew to name the Five Greatest American rock bands.
Dave: Van Halen, The Eagles, Tom Petty & the Heartbreakers, Aerosmith, and Nirvana
Emily: G&R, Bon Jovi, Van Halen, The Four Seasons,

Earth Wind & Fire

DQ - Fleetwood is not American, Chainsaw: Aerosmith, Van Halen, Allman Brothers, Fleetwood Mac, Beach Boys
Boyer - The Eagles, Styx, Steely Dan, Tom Petty, Chuck Berry
DQ - not American band, Sarah - Queen
DQ - took too long, Ruth - Iggy Pop and the Stooges, Pearl Jam, Allman Brothers, Bruce Springsteen and the E Street Band, Green Day.
Photo by Getty Images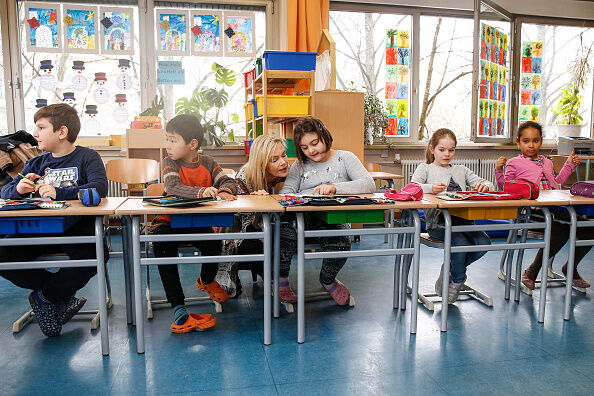 How much of what you learned in school do you actually use in the real world?
A new survey asked 2,000 people, and the average answer was 37%.
Here are the ten real-world skills we WISH we'd been taught:
1. Money management and budgeting.

2. How to do your taxes.

3. How to manage your emotional wellbeing and mental health.

4. Understanding credit cards and student loans.

5. How to negotiate.

6. Time management.

7. How to fix stuff around the house.

8. Relationship and conversational skills.

9. Car repair and car maintenance.

10. How to find a job.
The survey also asked people to name the most USELESS things they were forced to learn in school:
1. The Pythagorean theorem to figure out the dimensions of a triangle.
2. Knowing that Pi is 3.14.

3. Memorizing the periodic table of elements in chemistry.

4. Learning the different types of rocks . . . sedimentary, metamorphic, and igneous.

5. Learning the parts on an atom.

6. Learning what mitochondria are. . . a.k.a., the "powerhouse of a cell."
7. Naming all of the presidents in order.
8. Learning about osmosis.
9. Learning how to make paper snowflakes in elementary school.

10. Learning about

photosynthesis

in plants.
Photo by Getty Images
There were a lot of complaints about Jimmy Buffet's rendition of the National Anthem when he sang before the NFL playoff game between the New Orleans
Saints and LA Rams. Watch him in the video posted below and make sure to wait for the mic drop! Great four word quotes in Hollywood History!
You talking to me. Taxi Driver
I see dead people. The Sixth Sense
To infinity and Beyond. Toy Story
We'll always have Paris. Casablanca
Elementary my dear Watson. The adventures of Sherlock Holmes
Show me the money. Jerry Maguire
I pity the fool. Rocky Part 3
These go to eleven. This is Spinal Tap
Soylent green is people. Soylent Green.
Bring out the gimp. Pulp Fiction
What is the matrix? The Matrix
You're tearing me apart. Rebel without a Cause
Snap Out of It. Moonstruck
Get off my lawn. Gran Torino
I am your Father. The Empire Strikes Back
Hasta la vista Baby. The Terminator Two
*******SARAH wins for listener Eric who gets tickets to see The Who **********
$5 Quiz Standings as of 1-22-19
Last place - Chainsaw 0.0
Boyer tied with Ruthie for third place, Batting 143
Second place - Emily - batting 429, half a game out of first place
First place - Sarah - batting 500!
Photo by KGB/iHeartMedia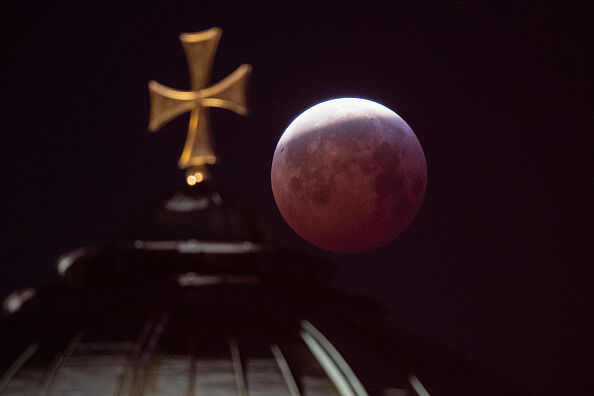 There was a lunar eclipse on Sunday night and this might be the worst thing that happened during it.
A cop in West Palm Beach, Florida was driving through a park at 11:30 P.M. on Sunday, right at the height of the eclipse, when he hit a BUMP. It turned out to be . . . a 24-year-old man and a 24-year-old woman who were lying in the road watching the eclipse. Oops.
Fortunately, the cop was only going about five miles-per-hour, so both the man and woman are going to survive. And the cop was put on administrative leave while the department investigates.
The second-worst thing during the eclipse? A car in Florida was swept into the ocean by the tide while the people inside were watching. They're all okay. But this is why Florida shouldn't get eclipses anymore. Get on that, solar system.
Photo by Getty Images
Check out more articles from The DSC Show.