DSC 1.12 - Squirrel Stuck In Man's Butt, Rage Yoga, Boyer No Kissing Booth
The DSC Show for Tuesday 2/12/19: Squirrel Stuck In Man's Butt, Rage Yoga, Boyer Refuses Kissing Booth and more! Listen to the podcast below.
Things We Learned On The Show Today:
Dave missed his calling. He shoulda been a heart doctor because he fixed Ann and Nancy Wilson's broken relationship and Heart is going on tour! They'll be in San Diego County in August and you can get FREE tickets by listening to 1015 KGB-FM here.Katy Perry created some ugly ass Mr. Potato Head shoes which are being called blackface. TMZ says they've been pulled from the shelves, but you can see them here.
Chainsaw told us about Rage Yoga where you release and let go - scream it out. They even take beer breaks. It's a safe space to let go of your anger. Namaste.
Chris Boyer is refusing to do the Kissing Booth for a dog charity on Valentine's Day. Sarah couldn't talk him into it, gosh darnit.
What's so sexy about couple's massage? Is it awkward or not? Boyer did one 15 years ago and said he enjoyed it. Sarah loves doing it with her husband Chip. Emily and Eric are doing it for Val Day. Dave doesn't like it at all.
The VA Governor told Gayle King on CBS, he was in a state of shock when he identified himself in the KKK hood and the blackface pics in his medical school yearbook. Now he knows it's not him, plus he's a different person now at age 59. You can watch the interview here."Gals with Pus" is the name of Dave's new band, just to horrify Ruth.
Leo Moracchioli is the singer Dave played a few times today who sings light songs in heavy metal style. You can enjoy more of him here.
We dare Nancy Pelosi to tweet to Trump, the video of the chimps climbing over the wall with the use of a tree branch. Watch here.Photos by Getty Images
Super Bowl MVP Julian Edelman shaved off his big beard for charity on the Ellen Show. He even matched the money she put up. And damn... he's been hiding a handsome face under that poodle. Watch it happen in the video below.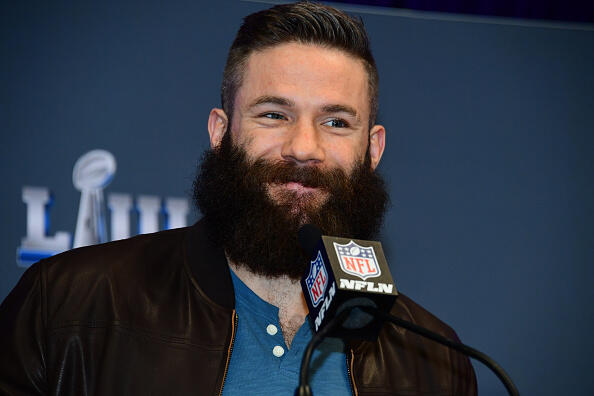 Dear Dave - I've been with my girlfriend for 4 months. I want to break up with her. I just can't stand her anymore. Trouble is .... she's putting together a whole day of love and dining out with plenty of special things planned for us. But I just can't stomach it for a whole day. Is it okay if I break up with her this close to Valentine's Day or not? Listener Joe
Emily, Chainsaw and Ruthie say - Just break up with her today. Don't lie - just tell her.Sarah - You can't break up this close to VD. Gotta wait until Saturday or Sunday to do it. Please don't wreck her special day and big plans for you. Doesn't matter if you're faking it. Boyer - Break up with her now so she can find some guy in a bar who was also dumped. He'd be happy to date her.Photo by Getty Images $5 Quiz: Name is your buzzer for Valentine's Day! Songs about flowers, candy and jewelry!The Wallflowers - HeroesSammy Davis Jr - The Candy ManThe Cars - Candy OSeal - Kiss from a RoseThe Foundation -  Build me up ButtercupSeals & Crofts - Diamond Girl Pearl Jam - Even FlowMarcy Playground - Sex and CandyBeyonce - Single Ladies (Put a Ring on it)The Beatles - Golden Slumbers (Carry That Weight)The Silver Convention - Fly Robin FlyKenny Rogers & First Edition - Ruby, Don't Take your Love to TownThe Chordettes - LollipopBad Company - Silver Blue and GoldElton John - Empty Garden
***********************CHAINSAW WINS *********************
Photo by KGB/iHeartMediaCheck out more articles from The DSC Show.