The DSC Show for Tuesday 7/16/19: I'm Stupid, Kids Breaking Things, Apollo 11 50th Anniversary and more!
Here are some of the things we learned on The DSC Show on KGB.
A Mom in PA got to throw out the first pitch in a minor league game honoring the troops. She got a huge surprise when the catcher took off his face mask and turned out to be her son! It was his first homecoming from the Marines in two years. More here.
NBA legend Jerry West works for the LA Clippers. He helped do the deal to lure Kawhi Leonard to his team. West says he's a great guy, very funny and so talented. Says he might be the best player we have.
Email from Jim in Carlsbad; He started working at 12 years old. Most of his friends didn't have to work and he was mad at his parents for making him work. But now he's 50 and glad he had to work because all of those non-workers are now meth heads. He was responding to Monday's discussion about a 17-year-old working or lounging the summer before his senior year. Our crew was split on the choice.
If you or your kid breaks something in a store, what's your policy? Our whole crew said, "You gotta tell on yourself." Not sure we believed each other. We checked in with Dave's Dad to see if he remembered telling Dave and his siblings to, "Keep your hands in your pockets" everytime he went into a store. And he did.
The 737 Max has been grounded since March and may not be up and running anytime this year. They're running out of places to park them. Check out their parking problems here.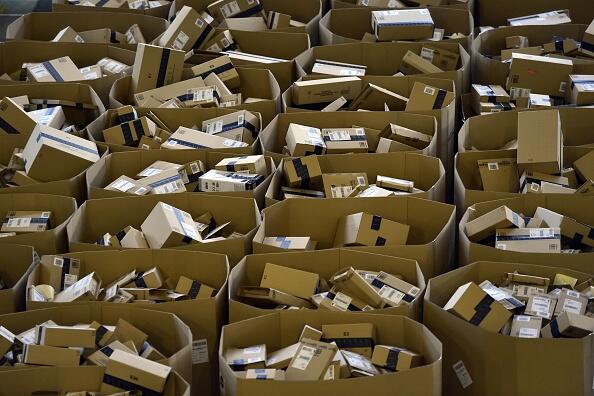 Amazon Prime Day(s) is Black Friday in July. It's now a two day event - yesterday and today - and Walmart, Target and even Macy's have stepped up to offer special deals as well. But watch out for the 'porch pirates' who will be showing up in the next day or so to steal your precious packages.
Today is San Diego's 250th birthday. Happy Birthday!
Do you believe in reincarnation? There's a little boy who thinks he was Princess Diana. He knows all kinds of information about her that no one ever taught him. Read more here.
Emmy nominations have been announced for 2019. "Game of Thrones" got more than any other show. "Mrs. Maizel," "SNL" and "Chernobyl" all raked in a lot of nominations. See the complete list here.
And finally, for the love of God - learn how to rake your butter tub properly! No divots, no missing chunks, no crumbs - just smooth, creamy butter!
Photos by Getty Images
We're playing a round of "I'm Stupid!" Winner gets free tickets to Comic-con!
Hall of fame Listener Omar - He took his family on a weekend camping trip in the middle of nowhere. Seven people didn't fit into one tent like it did in the picture. They had nothing to drink except beer, so they boiled the alcohol out of it and gave it to the kids. He decided to shoot propane tanks and started a fire which burned up that tent. So they slept under the stars and tons of creepy crawlies and spiders swarmed over their sleeping bags. Bats zoomed over their heads. They slept in the car and cut the camping trip short.
TJ - has a pacemaker with a built in D-fib. Had an episode and had to be shocked back into rhythm. It didn't work so they had to put him under which he was trying to avoid.
Karen - Instead of getting a hotel when their house was tented, they went camping. Got the motorhome, a/c and fire ants. The power went out and all the food went bad and they got attacked by bugs. Should of gone to a hotel. Used the bathroom as a supply closet. 
Christian - After getting engaged, they flew to Maui, but booked their hotel on the main island. 
Eileen - she was in a small, hot and crowded room at the gym in an exercise class. Suddenly, she had the room to herself and everyone in the class moved away from her. She didn't realize she stepped in dog poop and it was flying everywhere.
Nicole - long term boyfriend wanted her to text him what she wanted from the store. She texted pics of what she wanted. The pics had her nude reflection on them. She told him to delete the pics, but the Target guy already saw her naked.
Peter - daughter having a baby, water broke, went to the hospital. Talking to his wife on the phone while telling her he couldn't find his phone.
Colleen - locked herself IN the car and didn't want to set off the alarm. It took three hours to figure out she only had to click unlock button to get out.
Amanda - gave Dave call letters C-A-L-L! Has a crush on a co-worker and texted a friend about him but sent the text to the crush instead of her girl friend. 
Stacy - Just for the hell of it, she stuck her tongue on the shelf of the frozen food section. Mom says let's go and she yanked her tongue away and had a mouth full of blood. 
Christina - Mom was having a party. She has lots of lamps in her house and she has to make sure all the bulbs are working. Put her finger right in the socket, then did it again. The shock was stronger the second time. Then she did it a third time! Mom watched and took over the job and sent Christina to light the grill instead.
Steve - he was working on a bait dock. Kicked a cleat with the webbing of his toe. When the big boats came in he had to load them up with bait. They noticed his foot was bleeding.
Ryan - construction worker on the coast bikini watching in a two way window where they can't see him. Saw two girls making out and went to adjust his pants - they spotted him. He was in the wrong house that had normal windows.
*******WINNER ******** Colleen - locked herself IN the car and didn't want to set off the alarm. It took three hours to figure out she only had to click the 'unlock' button to get out.
Photo by KGB/iHeartMedia
We started the show today with Apollo 11 Trivia Questions.
What comfort skills hadn't been worked out yet? - Going to the bathroom #2.
How did Sears make it onto the moon? They made the flag.
How long is the flight to the moon? Four days
What was the name of the rocket that landed on the moon? The Eagle
Which astronaut was a foreigner? Michael Collins was from Italy.
What non astronaut activity did Buzz do right before he stepped out onto the moon? Took Communion
Wally Schirra and Walter Cronkite said what when they heard what Buzz Aldrin give his now classic line about "one giant step for mankind?" They didn't hear it. Went right by them.
What happened to the Hasselblad camera they used on the moon? Left it there.
photo by Getty Images