DSC Show - Tuesday, December 11
Here are some of the things we learned today.
Time magazine Man of the Year is "The Guardians" and the "War on Truth" as the 2018 Person of the Year – marking the first time that someone who is no longer alive was selected. They are murdered Saudi Journalist and Washington Post Columnist Jamal Khashoggi, and indicted Filipina Journalist, two jailed Myanmar reporters and the Capital Gazette of Annapolis, Maryland where five staffers were murdered earlier this year.
Quote of the Year according to the Yale Book of Quotations, "Truth isn't truth," said Rudy Giuliani.
The 'Collinsworth Slide' got a huge round of applause in a sports bar when he was seen on Monday Night Football. The fans love it when he slides "Kramer Style" next to Al Michaels. You can see it here on Twitter.
An Amazon delivery driver delivered a package in El Cajon, on the lawn - but then stole it! Thank goodness it was caught on video and he was quickly fired.
The folks at Oscar are considering using multiple hosts to keep the show moving, rather than depending on one person to host the ceremony. They have until February to figure it out.
Bryan Cranston says it's okay to be angry. "It's usually not acceptable when you get mad, but I think when you see injustice it should be okay to point out something is wrong."
Most googled song lyrics of 2018 are by Taylor Swift, "Look What You Made Me Do."
Photos by Getty Images $5 Quiz Playoffs: The Semi-Finals between #4 seed Emily vs. #1 Seed Sarah today!! Winner plays Boyer for the Finals on Friday's Christmas Show!
Dave did something different this time. He had Ruthie wear a mouth-spreader thingy and read the words to the girls. The girls have to guess what the hell she's saying - kinda like 'Summer School.' These are all phrases which are embarrassing bodily functions.
Urinary incontinence Death Breath Anal Warts Really Smelly Feet Giant Eye Boogers
Thick Ropey Nipple Hair Old Man Mouth Crust Yellow Thick Toenails Chronic Dingle Berries
Big Brown Baloney Stains Droopy Poopy Diapers Big Black Back Zits Pesky Rectal Itch
*******Emily wins******* she goes to the finals to take on Boyer on our Christmas Show! ******
Photo by KGB/iheartmedia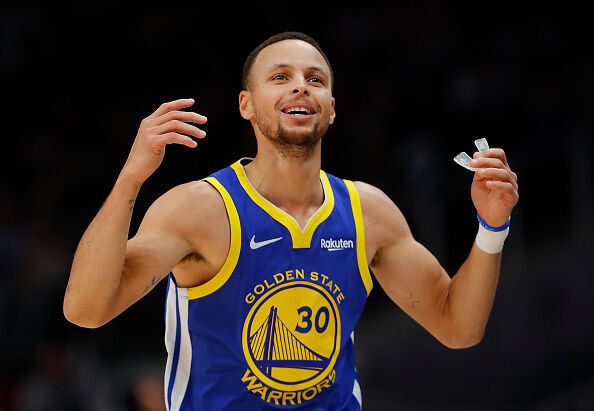 NBA super star, Steph Curry doesn't believe we actually went to the moon. NASA invited him to view the evidence next time he's in town to play the Houston Rockets. After a decade of avoiding controversy, he's really stepped in it this time. If you really need to, you can learn more about it here.
Photo by Getty Images
What would Dean Martin think of the controversy over 'Baby It's Cold Outside?' His daughter Deana is speaking out about it. She said her dad would be "going insane" over the debate if he were still alive. Dean did the song for his 1959 album "A Winter Romance." Folks from the #METOO movement find the song to be "rapey" and totally inappropriate in the light of what's happening in the world.
Photo by Getty Images Day 9 of DSC 12 Days of Christmas
Listener Melissa is drowning in life trying to make ends meet. She's a single parent raising her son, trying support her kid without any help. But in fact, she needs help to pay the rent and put food on the table. She didn't want to have to nominate herself for this Christmas Wish, but she could really use a hand up.
$1,000 in cash from Kearny Pearson Ford, plus a $500 gift card from Pick Up Stix will greatly help her catch up for awhile!
After her phone call, our generous listeners called in and donated $700 MORE to help her out! That's the spirit of the season we love and admire.
DSC's 12 Days of Christmas is Presented By Kearny Pearson Ford, and Sponsored By California Coast Credit Union and Pick Up Stix.
Our hope is that you'll want to listen to our podcast now after reading this so you can hear it for REAL! This is our show in its entirety on KGB for Tuesday, 12-11-18. We love your show!