DSC Show - Wednesday, October 31st
Here are some of the things we learned on our Halloween Show today.
The Celebrity Death Czar, Chris Boyer, says YES to gangster Whitey Bulger! He is joining Sarah's wayward bunny rabbit. Whitey Bulger was murdered in prison yesterday right after he was transferred to a new location.
Mike Tyson has a new TV show coming out. It's a scripted show where he stars as a marijuana farmer. Wait, what?
Should we change Halloween to always fall on a Saturday instead of always on the 31st? It's for the kids.
Ben & Jerry's is getting political with a new flavor of ice cream. It's called "Pecan Resist" and has chocolate ice cream with white and dark fudge chunks, along with pecans, walnuts and fudge-covered almonds. Obviously, Republicans will be permitted to try it as well.
Email to the show: Dear Dave, Should I bring my candy to KGB for Boyer to x-ray? (Flash back)
Aussie Actress, Naomi Watts, is set to star in a prequel for "Game of Thrones." It doesn't have a name yet and is still in the pilot stage. But It will be set thousands of years before the events of the original HBO show.
Can you handle twenty more years of Metallica? They have no intention of retiring anytime soon, despite being in their 50's.
Photos by Getty Images
Check out our awesome Halloween costumes. We dressed as Sarah's family - Boyer looks great in a tutu.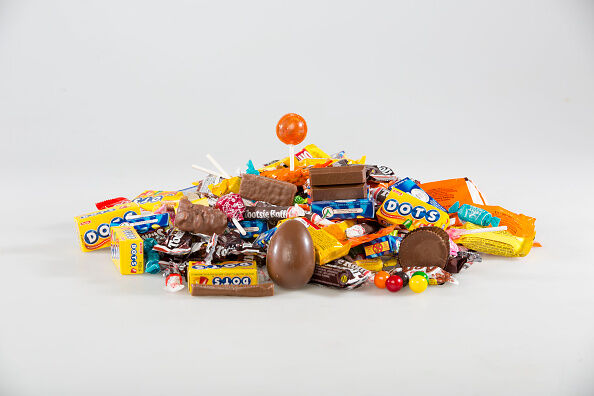 Top 10 most hideous candy for Halloween
Mary Janes
Good n' Plenty - Boyer likes 'em

Black licorice

Smarties

Tootsie Rolls - Ruthie likes 'em

Peanut Butter Kisses

Necco Wafers - Dave, Chainsaw and Boyer like

Wax cola bottles - Dave likes

Candy corn - Ruthie, Chainsaw, Boyer all like

#1 worst Circus Peanuts
Candy that was created the years we were born:
Ruthie and Chainsaw - Peeps (close enough)
Dave - Lemon Heads and Starbursts

Boyer - 100 Grand and Razzles

Emily - Skittles
Sarah - Nerds
Brando - Hershey's Cookies & Cream Candy Bar
Photo by Getty Images $5 Quiz: Summer School - Halloween Edition! Listener wins tickets to our private screening of Bohemian Rhapsody tomorrow at The Lot. Just guess the word Summer says for us!
Halloween Candy Corn Haunted House Trick or Treat
Costume Freddy Krueger Ghostbusters Skeleton Michael Myers
Thriller Hocus Pocus Jack O'Lantern The Shining Vampires
Frankenstein Dracula Spooky Witch Poltergeist
**********EMILY WINS*********
$5 Quiz Standings:
Ruth - last place
Emily - 4th place - 3 games back
Chainsaw - 3rd place - 2 games back
Boyer & Sarah are tied for first place!
Photo by KGB/iheartmedia
Queen released the single "Bohemian Rhapsody" on this day, 31st October 1975, written by Freddie Mercury. It went to No.1 in the UK at Christmas '75 & stayed there for nine weeks.
Please enjoy the video below.
Photo by Getty Images
Dave asked us to pretend we won that billion dollar lotto jackpot last week. Easy enough. Now - what kind of car would you buy first?
Sarah - Mercedes
Ruth - Porsche
Emily - Tesla
Boyer - Gumpert??
Chainsaw - Ford
Then Dave told us about the actual cars real billionaires drive:
Steve Ballmer - Ford Fusion
Mark Zuckerberg - midsize Acura
Warren Buffett - Cadillac
Jeff Bezos - used Honda
Photo by Getty Images
If you missed any portion of our Halloween Show today on KGB - just click here to listen to our podcast in its entirety!