DSC 11.19 - My Strange Addiction, $5 Thanksgiving Day Quiz & Bromo's Bet
We started the show today with Dave admitting: "My Strange Addiction" is his new addiction! He gathered up a bunch of the show titles they air on TLC so you can see what you're missing.
Addicted to licking her cat

Addicted to eating cat food

Addicted to snorting baby powder

" To drinking her own urine

" To eating mattresses

" Eating glass

" Rubber tires

" Smelling gasoline
" Sniffing and chewing dirty diapers
"Eating drywall

" Stinging herself with bees

" Eating rocks,

" Having sex with his car

" Drinking paint

" Drinking air freshener

" Eating sand
Would you rather sit in the room with the dirty diaper lady OR Sit in a room with Boyer talking like the creepy guy? Double Eeewwww!
(You can see a compilation of a variety of strange addictions in the video below.)
Photo by KGB/iheartmedia
Little Steven will be performing in San Diego, CA at The House of Blue On Tues. Dec. 11th at 7 PM and you can get more info and tickets here.
Photo by Getty Images
Here are some of the things we learned on the show today.
Bob Barker back is in the hospital, hoping for his 95th birthday.
Actor Frankie Muniz went home to a flooded house. But it wasn't caused by an act of nature. Turns out - his cat turned on a faucet and ruined the entire place.
PBR might be going away. Millers/Coors has them under contract until 2020 and that might be the end of it. It could be decided in court very soon.
We did a major flashback today and had a 'naked lap bet" between Dave and Bromo over a Duke game. If we remember correctly, the very first Bromo naked lap happened after a bet on "Stupid Duke." Duke plays SDSU Aztecs Monday at 2pm, and Dave says Aztecs will win, while Bromo has Duke - but they have to win by exactly 8 points.
Mike Jagger and Keith Richard made a BIG announcement today by way of Clint August at noon. If you missed it, please go to our website here to find out the scoop.
Happy belated birthday to Gordon Lightfoot, who turned 80 on Saturday. The Canadian singer-songwriter is officially an octogenarian, and he's still performing on a regular basis. Bob Dylan called him one of his favorite songwriters.
What are your feelings about Ocean Spray canned cranberry sauce complete with ridges? Sarah, Ruth and Emily said yuuck! Chainsaw, Dave and Boyer all love it!! You can weigh in on our Facebook page right here. OR you can comment on Dave's Instagram post here.
Photos by Getty Images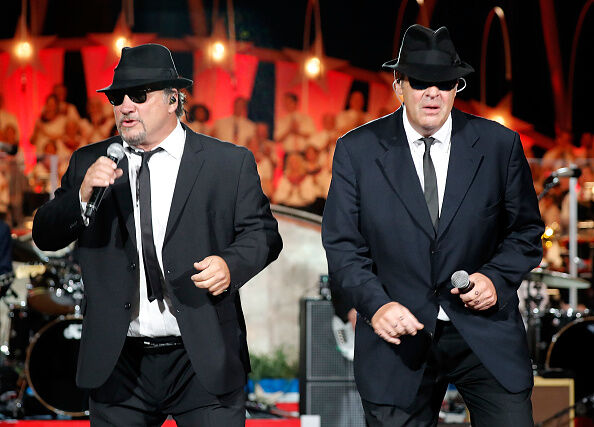 The Original Blues Brothers Band will be performing at Harrah's Resort SoCal on Sat. Dec. 8th at 8 PM. You can get tickets at ticketmaster or just click here.
Photo by Getty Images
Even animals have the spirit of Thanksgiving. Watch this bunny help his kitty cat friend who got stuck. Watch him work it in the video above.
Next Thursday is Day One of our 12 Days of Christmas! We need you to nominate your friends or family members who need a $1,000 hand up for the holidays. If you know someone who's Christmas would be improved immeasurably - you should click here to nominate them!
Photo by KGB/iheartmedia
Week 10 in the NFL; standings for the DSC Crew football bet!
Anna - Rams 9-1
Emily - Patriots 7-3
Chainsaw - Chargers 7-3
Ruthie - Steelers 7-2-1
Boyer - Vikings - 5-4-1
Sarah - Eagles 4-6
Dave - Packers 4-5-1
Photo by KGB/iheartmedia
Check out all the cool stuff HERE you can win just by listening to KGB. $5 Quiz: Theme: Thanksgiving. Listeners playing for 4-pack of tickets to Del Mar Racing Brunch at the Turf Club, with a three course meal and bottomless mimosas on Thanksgiving.
Which president made Thanksgiving a national holiday? Lincoln

What was the main meat course at the first thanksgiving of native A

mericans? Deer

What main course did the pilgrims bring? Fish

What eating utensil wasn't on the pilgrims table? Forks

Which of these wasn't served at the first Thanksgiving?

Swans and Seals but NO beavers

What's that big red hanger hanging off of a turkey's beak? Snood

What's the name of the meat curtains under the neck of the Turkey? wattle

In 1953 one company ordered too many turkeys. Their solution to get rid of them all was what? The tv dinner

What sound does the female turkey make? Cackle, only males gobble

In what month do the Canadians celebrate Thanksgiving? October

What was unique about the pilgrim Oceanis Hopkins? He was born on the voyage over to America

Leading cause of death of pilgrims in their first winter? Scurvy

The pilgrims settled in Plymouth. What was their intended destination? VA

The day after Thanksgiving is the busiest day of the year for what tradesmen? Plumber

Christopher Jones was the captain of the Nina, Pinta or the Santa Maria? Nope the Mayflower

What do you do with a ferkula? Break it in half - wishbone

The first thanksgiving was eaten at Plymouth. What was the farthest away place? The moon.
*******CHAINSAW WINS*********FOR LISTENER MARK*****
$5 Quiz Standings according to Commish John Tipps
Ruth - last place (see you in the playoffs)
Emily - 4th place - 4 ½ games back
Chainsaw and Boyer are tied for second place
Sarah - FIRST PLACE - two games ahead!
Photo by KGB/iheartmedia