The 20th Annual May Ride is back in full force! Join us on May 21st as we ride to support our men and women in uniform.
We're pulling out all the stops for this party! Celebrate 20 years of riding to support our troops with Biggs Harley-Davidson and Armed Forces YMCA! Then stay for the after party with awesome bands, vendor village, fun games, Kids Zone, food truck alley, and even a show just for the ladies!
The best part? It's only $20 bucks to ride and $10 dollars per passenger. Current and veteran military riders are only ten bucks! All brands of bikes are welcome! No bike? No problem! Cars are welcome, too!
Join us as we support our troops with the biggest and baddest ride on the coast! Be ready to ride May 21, 2022 starting at 8:30am at San Diego's motorcycle giant, Biggs Harley-Davidson in San Marcos.
Register today at MayRide.com.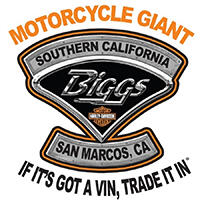 About the Armed Services YMCA
The Armed Services YMCA enhances the lives of military members and their families through specialized counseling, family & youth enrichment, and warrior care programs relevant to the unique challenges of military life.
After learning about all that the Armed Services YMCA does for our military Heroes and their families we knew they were the right fit. From clinical counseling, food, rehabilitation and recreation therapy, at-risk military kids after school programs and so much more we wanted an organization to encompass many areas of assistance for our Men and Women in the Armed Forces because they continue to sacrifice so much for us. Many of us have never experienced what it's like to be far from home and in harms way. We cannot imagine what it's like to be missing our family while carrying out very important and often times dangerous missions. When our Heroes return from a tour of duty, they should have resources available to them to assist them in their day to day needs. We believe that the Armed Services YMCA provides this for them.