DSC Show - Friday, December 7
Actor, comedian, Kevin Hart will not be hosting the Oscars because anti-gay tweets from his past were discovered. He recorded a video himself saying he refused to apologize and wouldn't quit. But something happened, because he did indeed apologize to the LGBTQ community as he stepped down as host.
Kevin attended the Oscars as a guest a few years ago and hoped one day he would get a chance to host the ceremony - it was his dream job. But thanks to old behavior, that's all gone. Hart said he's grown as a person and isn't like that anymore.
Photo by Getty Images $5 Quiz Playoffs: #2 seed Boyer vs. #3 seed Chainsaw
Theme: Stuff girls know!
Which Kardashian is a cosmetics mogul? A:

Kylie Jenner

What's the name of her company? A:

Kylie Cosmetics

What are: Minnie bailey button, Bailey Bow, Mini Bailey Fluff? A: Names of Ugg boots

Which character on 'Sex in the City' was a columnist? A:

Carrie Bradshaw

In 'The Notebook,' who plays Noah? A:

Ryan Gosling

What's the difference between a shellac and a regular manicure? A: gel

Which San Diego mall has Neiman Marcus? A: Fashion Valley

Who sings 'Single Ladies?' A: Beyonce

'Pink' is a division of what ladies garment manufacturer? A:

Victoria Secret
***************Boyer wins*********************
Next round - Semi-Final: #4 seed Emily plays #1 seed Sarah. The winner of that round plays Boyer in the Finals!
Photo by KGB/iheartmedia Day 7 of DSC 12 Days of Christmas
Chad is an HVAC technician who is about to be homeless. He lives in his bosses RV. Now the dude is going to sell the RV and lay him off to make it through the season. (But he has a job interview today!) The cash would help him pay his bills and get a room somewhere. We're giving him $1,000 from Kearny Pearson Ford AND a $500 gift card from Pick up Stix!
DSC thanks our amazing sponsors Kearny Pearson Ford, California Coast Credit Union, and Pick Up Stix for making 12 Days of Christmas possible. You can still nominate a family HERE >>
Here are some of the things we learned today.
Amy Nicole Perrino (you should Google her name so you can see her sweet mugshot) went to jail for assaulting her boyfriend who refused to go downtown. She got mad and sat on his face naked. That didn't work however and the cops took her to jail where she smeared feces on the wall of her cell.
A Visalia teacher was arrested for forcibly cutting kids hair in class while singing the 'Star Spangled Banner.' You should read all about it here, complete with video.
Another teacher was put on leave for encouraging people to not decorate their classrooms for Christmas. She didn't want people who didn't celebrate that holiday to feel left out. But she also believed red and white candy canes shaped like a J meant J for Jesus, with white for flesh and red for blood.
Pubic hair eyelash transplants are now a thing. Up to 100 pubes per eye. Check out the doctors on "Botched' for more here.
Would you rather have - for the rest of your life - bald eyelashes - never fixable OR Boyer pubic hairs for eye lashes? Even though Emily said yesterday that she would never chose Boyer again - she chose Boyer again. Couldn't go one damn day!
And that story led to the inspiration for Dave's new band ... "I Would Die with Boyer's Pubes on My Face." That was in fact, a direct quote from our Sarah.
Photos by Getty Images and KGB/iheartmedia Bromo Brain Bowl! Bromo vs. Listener Chad, with Ruth on the side.
Theme: Timely Topic - today is Pearl Harbor Day
Pearl Harbor is in what state? Chad: Hawaii

Bromo: Florida - wrong!

Which country attacked Pearl Harbor?

Chad: Japan

Bromo: Russia RSS's - wrong!
Which branch of the military was predominant? Chad: Navy

Bromo: Commissary - wrong!

Who was president when Pearl Harbor was attacked?

Chad: Nixon- wrong - it was Franklin Delano Roosevelt

Bromo: Nixon - still wrong - FDR
Dec 7th is a date that will live in _____ . Chad: infamy

Bromo: infirmary - wrong!

The attack on Pearl Harbor took the US into what war?

Chad: WW2

Bromo: Revolutionary War Part 2 - wrong!
What was the name of the war movie with Ben Affleck & Kate Beckinsale? Chad: Pearl Harbor

Bromo: The Attack of the Killer Tomatoes - wrong!
Listener Larry called in to report an ASNR when Bromo said "revolutionary war part 2!" To refresh - an ASNR is an "acute spontaneous nasal reflux." or laugh it out your nose!
SIDEBAR - We realized Chad also wrote us a letter to nominate himself for our 12 Days of Christmas, so read the next post to see what happened!
Photo above by KGB/iheartmedia and the Photo below by Getty Images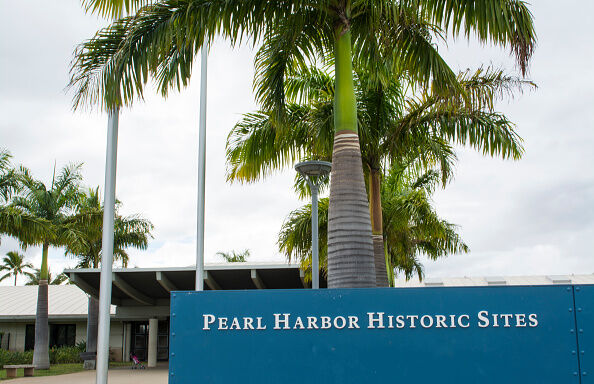 We hope reading this has wet your whistle to want to listen to our podcast which is just above these words. Never forget - we love your show.