DSC Show - Friday, January 4
Here are some of the things we learned on the show today:
We welcomed back Sam The Cooking Guy this morning. He hasn't been on our show in almost two months, due to some health challenges, so it was lovely to see him again. His visit inspired Dave's new band, "The Stone Free Urethra."
Emily isn't finished with Christmas yet. She's planning to travel to Seattle to visit her mother, Debbie since she spent the holidays in Brazil with her husbands family. Debbie plans to keep all of her Christmas decorations up to make it as festive as possible.
Listener Lou emailed the show at DSC@101kgb.com and asked how we would pronounce the name Tcharyne. We guessed things like CHAR-nee or char-NAY, when in fact it's pronounced Karen. WTF?!
Chainsaw told us the shocking prediction by CBS that the Chargers will be playing the New Orleans Saints in the Super Bowl next month - and the Chargers will win! That's QB Philip Rivers vs. former SD Charger QB, Drew Brees. Dave ran a Ten Listener Poll to find out who San Diego football fans would be rooting for. Results: Chargers - 7, Saints - 3. Go Chargers!
Is Ed Sheeran a copycat? He's being sued by the family of the late Marvin Gaye for copying parts of his hit song, "Let's Get It On." A judge said a jury needs to decide the case. Sheeran denies copying any part of the song in his hit song, "Thinking Out Loud."
You should listen to the video posted above to decide for yourself.
Chris Boyer won 12 games last year with 5 freebies given to him to start the year. The Team won 16 games total. That makes the point spread 9 games, plus 3 for home field advantage. After much discussion and arm bending by Dave, The Team voted to give Boyer an 8 1/2 point advantage from the start of Boyer vs The Team.
So we played our first game of Boyer vs. The Team this morning.
Question: RX prescription medicine - what does it stand for?
Team Answer - abbreviation for Rexall
Boyer Answer - the doctors shorthand for recommended elixir
Real Answer - it stands for recipe
Score: Boyer 8.5, Team 0, and Neither has 1.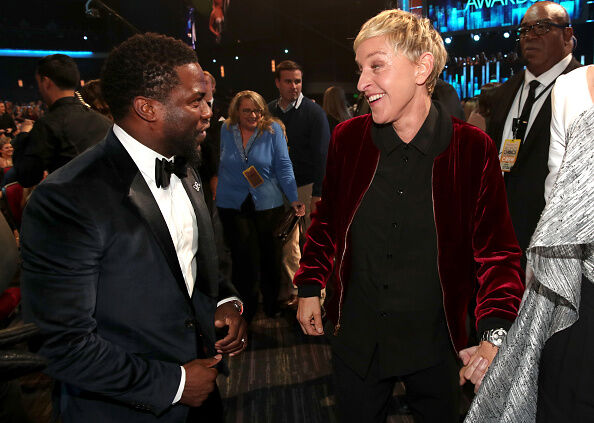 Kevin Hart might be able to host the Oscars next month after all. He stepped down after he was attacked for some anti-LGBTQ tweets from ten years ago. But Ellen Degeneres is stepping in to help out. She says he deserves a second chance. She even called the folks at Oscar and asked them to reconsider allowing him to host the award show.
You can watch the interview on Ellen's talk show this afternoon on NBC.
Photo by Getty Images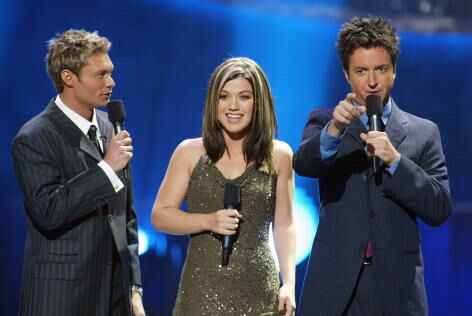 Remember Brian Dunkleman from season one of American Idol when Kelly Clarkson won? He co-hosted the show with Ryan Seacrest in 2002. No one seems to recall why he left the competition program, which turned into a power house and made Ryan Seacrest a household name worth $400 million.
News came out in the press this week, when it was learned his ex-wife is divorcing him and that he's been working as an Uber driver. Dunkleman refuses to be shamed for providing a living for his family. People magazine says his ex if fighting him for custody of their son.
Photo by Getty Images Controversy is swirling around Madonna thanks to a photo of her that went viral this week. She performed at the Stonewall Inn in NYC on New Year's Day and took a selfie of herself that set tongues to wagging. It appears as if she went under the knife for some butt implants or else she was wearing some sort of butt pillows to enhance her derriere.
Social media was on fire criticizing her, body shaming her and also defending her right to do what she wants. You can see the pic in question here, along with many other pics of her bum to compare it to. An article in USA Today also shows the pic and tells more of the story here.
Photo by Getty Images
We hope reading this blog has made you want to listen to our show today. You can hear the whole thing right here on our podcast from Friday, 1-4-19 on KGB-FM.