DSC Show - Friday, November 9
Happy Veterans Day weekend! To honor America's heroes, lots of restaurants are giving away free food and having special deals nationwide on Sunday for Veterans Day!
They're honoring America's heroes with doughnuts, burgers, steak and more. You can get all the details right here.
Photo by Getty Images
Dave's favorite- favorite supermodel is Alessandra Ambrosio. But we heard sad news, I'm afraid. Alessandra Ambrosio is retiring from the Victoria Secret Fashion Show. To cheer you up, I found some gorgeous pics of her from past VS Fashion Shows to celebrate her career.
Photos by Getty Images We had a hilarious round of the $5 Quiz: Summer School - Veterans Day edition today. Listeners were playing for a four-pack of Disneyland tickets! (Our apologies go out to ALL Veterans). One thing that made this episode funnier than usual - we discovered Summer has a vocal fry. Ruthie had a really tough time not laughing and even got penalized for it. You can the entire episode in our podcast below.
Here are the words we had to guess:
Veterans Day WW1 Vietnam War Pearl Harbor Normandy Gulf War Korean War
Camp Pendleton Navy seals semper fi FDR Hitler Tomb of the Unknown Soldier
Colonel and last but not least, POW - prisoners of war and NOT Peter Gabriel as guessed by Chainsaw. Please scroll down to listen to today's podcast to hear the hilarity which ensued.
$5 Quiz Standings according to Commissioner John Tipps:
Ruth - holding down last place despite two wins last week.
Chainsaw now in 4th place from a slump late in the season, but still only 3 ½ games back
Emily moving up to 3rd place and only 2 ½ games back
Boyer - 2nd place
Sarah first place - 1 ½ game lead
Photo by KGB/iheartmedia The Steelers took on the Panthers last night at Thursday Night Football. Somehow, the heavy metal rock band "Steel Panther" thought they were headlining at Heinz Field in Pittsburgh.
They showed up at the stadium and spoke to the hosts, Michael Strahan and Howie Long - and the whole thing was caught on video shown below. Make sure you keep watching to see former Steeler great, Terry Bradshaw dressed up in his Steel Panther gear!
And yes, that's our very own Emily J. Maguire and her husband Rico Suave pictured above dressed up for a fun night at an actual Steel Panther concert.
Photo by Emily J. Maguire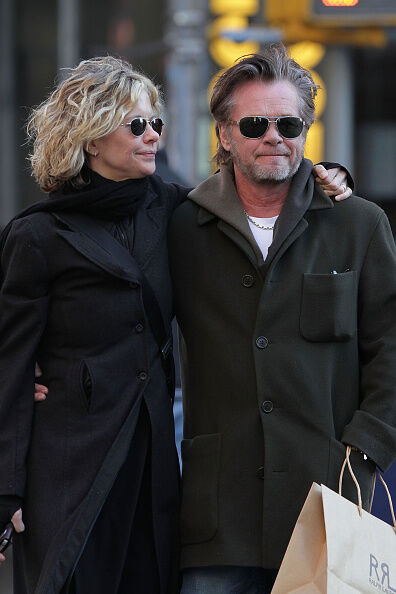 Here are some of the things we learned today.
Meg Ryan and John Mellencamp got engaged! We heard they broke up awhile back, so we were a bit surprised by this news. Congrats, kids!
An elementary school student in Belleville, Illinois, was told to cover his cancer awareness shirt. His mom said he was wearing it to honor his grandma's fight with breast cancer. They had a problem with it because the shirt read like this, "Hakuna maTATA," with the tata emphasized. You'd think they'd have bigger things to worry about, sheesh.
Steelers RB Antonio Brown got a speeding ticket before TNF last night, driving his Porsche 100 mph. Cops were searching for a bank robber at the time. I'm not sure how they confused the two, but Brown showed up and played a stellar game, killing the Panthers 52-21.
Free food and special deals for Veteran's Day this Sunday, Nov. 11. Please go here for the glorious details.
Listener Lisa won the Bob Seger, Beautiful Loser contest today, so she gets free tickets to his last tour. Bromo phoned the show to help Lisa guess the song Dave played backwards. They guessed,"Old Time Rock 'N Roll" and she won! Congrats!
When you get pulled over by a cop and he or she asks you your name - you give it to 'em, right?! Well, that's not what happened to a dope rolling in St. Pete, FL. He had the cojones to say his name was "Bend Over." Okay, that's funny - but you don't say it to a cop for Pete sakes! But this idiot really wanted to go to jail, because he gave the cop his middle finger and booked. Fortunately, he was caught after a short foot chase.
Photos by Getty Images Actress, model, Emily Ratajkowski was spotted at the Laker game hanging out, talking to fans and looking pretty. She posted a message to her 20-million Instagram fans that read, "Checking in on boo @KingJames." No comment from Mrs. LeBron.
It looked as if she was the real star of the Lake Show, with so many fans giving her attention. The 27-year-old worked as a good luck charm for the Lakers, since they beat the Timberwolves 114-110.
You can follow her on Insta right here.
Photos by Getty Images
Please enjoy the podcast for today's show in its entirely from Friday, 11-9-18 on KGB-FM!