DSC Show - Wednesday, January 2
Today, we had a Death Czar update, with Chris Boyer's final declaration for 2018.
Penny Marshall - yes

Audrey Geisel - no

Nancy Wilson - no
Q: Who wants to be the new celebrity death czar?
A: Ruthie, Emily and the two year incumbent Boyer
A Ten Listener Poll chose the winner: EMILY WINS!
Emily - 5 votes

Ruth - 4 votes

Boyer - 1 vote
Photo by KGB/iheartmedia
Here are some of the things we learned on the show today:
Dave's right thumb is dying! Might have some sort of fungal infection. Or maybe it's thumb cancer. And it's only one thumb. And no, lotion didn't help.
12 million people live in Sao Paulo, Brazil, where Emily went for vacation. It's so crowded there, they have to restrict driving at certain times of the day.
Emily upgraded her wedding ring from a $6 cz to a $10 cz! Congrats, girl!
Emily really enjoyed her trip to Brazil, because people left her alone! She doesn't speak Portuguese, so no one really talked to her. She had so much time to herself, she actually finished reading four books!
Sarah got a "beach purse" for Christmas from her husband and said it was a big miss. But her best gift is still to come when she gets her eyebrows tattooed.
The best thing Ruthie ate over the holiday was making French fries in her new Air Fryer.
Boyer's best Christmas gift was Alexa, but the poor thing fried herself after realizing she'd rather drop dead than take commands from Boyer! DSC crew NFL standings, week 18:
Anna, Rams 13-3
Chainsaw, Chargers 12-4
Emily, Patriots 11-5
Sarah, Eagles 9-7
Ruthie, Steelers 9-6-1 - OUT
Boyer, Vikings 8-7-1 - OUT
Dave, Packers 6-9-1 - OUT
Grover from Sesame Street was talking to a newer puppet and people are hearing two different things. "Yes, yes, that sounds like an excellent idea." OR "that's an effing excellent idea." It's the new Laurel/Yanny for 2019.
Emily, Chainsaw and Ruthie hear the first one, while Dave, Sarah and Boyer hear the second one. Listen to the video below and see which one you hear.
Photo by Getty Images Listener Carlos emailed our show today asking for our help. He's wondering ... is he a selfish bastard? He bought 25 Scratcher lotto tickets and gave them out over Christmas to break the ice at a party. One of the tickets was a $10,000 winner and he hates the dude! He's never won more than $100 so he never thought he'd give away that much money - to someone he hates! Is he a selfish bastard for feeling bad HE didn't win the money for himself? The whole team said, hell no. We felt bad for him too.
Sarah says the winner should give Carlos half. Ruth says give him at tip at least $500. Boyer says he gets nothing. Emily and Chainsaw would buy him a nice steak dinner.
Photo by Getty Images
A new year means new laws and here are some of the highlights for California. Here's the complete list.
Order a kids meal at a fast food restaurant and you will get either milk or water unless you specifically ask for a sugary drink. The idea is to keep kids healthier and reduce childhood obesity.

Straws are out at restaurants, unless you ask for one. Lawmakers say they'll work on a similar straw ban for fast food restaurants, coffee shops and convenience stores in the hopes of keeping beaches cleaner.

Motorists no longer need to identify as only "male" or "female" when it comes to gender. "Non-binary" is now an option for driver's licenses or ID cards.

Publicly traded businesses in California must now appoint at least one woman to their board of directors.

Employers must make new accommodations for breastfeeding mothers and women must be provided with a private space other than a bathroom.

The minimum wage also rises to $11 or $12 depending on the size of the employer. It's part of a stair step increase that will bring the minimum wage to $15
Photo by Getty Images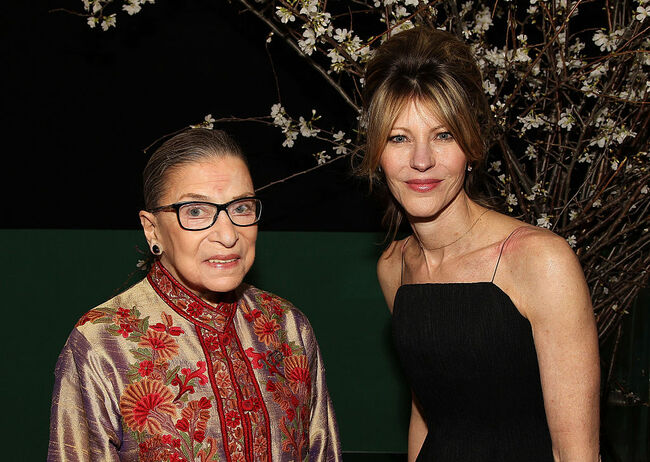 A new list is out with the women Americans admire the most. Hillary Clinton was #1 for the last 17 years, but dropped to #3 this year.
7. Ruth Bader Ginsburg
6. Angela Merkel

5. Queen Elizabeth

4. Melania Trump
3. Hillary Clinton
2. Oprah
1. Michelle Obama - is the most admired woman in 2018.
We asked the DSC Crew which woman they admired the most.
Chainsaw - Nancy Brinker - started Susan G. Komen foundation
Emily - Pink - seems like a cool woman, very talented, neat mom
Sarah - Ellen - she's used her celebrity to make the world a better place
Boyer - Hedy Lamarr - she came up with engineering stuff for torpedo guidance
Ruth - Se

rena Williams- she's 37 and still kicking ass in tennis
Photos by Getty Images