DSC Show - Wednesday, October 3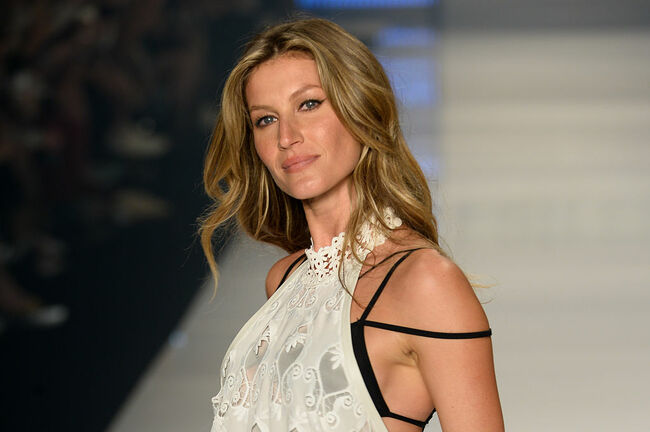 Here are some of the things we learned today.
Gisele Bundchen's new book comes out today. She talks about her past before she met Tom Brady. She talks about Bridget Moynahan, who let Tom go on blind dates now and then. Gisele met him on one of those dates. When Gisele heard Bridget was pregnant, the scandal wasn't easy for her. In fact, it was very inconvenient for Gisele.
Dave's wife, Nicole, bought a bunch of those pumpkins with the warts all over them. She didn't buy any of the smooth, orange kind. Dave wants to create a Leper Colony display out of them.
How much time do you spend on your iphone and which app are you using the most? The new operating system OS 12 will tell you exactly that - even if you don't want to know. Don't let your phone shame you!
Today, Dave decided that Clint is "Shutter Island!"
Emily was nice enough to buy Boyer some new socks - a four pack of dark colors. He only wears white socks and she wanted to show him how much better the dark socks would look. He just stared at them and said, "I have no idea what to think about this." When asked if he likes them, he replied, "It's a less strident delta." WTF, Boyer? We'll take that as a yes. You can see a pic of Boyer in his new socks on our Instagram here.
Dave gave birth to a new band today, thanks to "Boyer Vs. The Team;" Striations in the Scrotum! You can read all about it by scrolling down a few more posts.
More people are dying from taking selfies! So much so, that it's been discussed that signs should be posted in popular tourist areas reading, "No Selfie Zone." You can read more about it here.
Dave was out doing errands last night. Tuesday is Nicole's day off - otherwise known as "trouble day." Dave likes to do things early because his day begins early and she likes to do thing late - like normal people. They agreed on an "early dinner." To Dave, that means 4pm and Nicole was thinking more like 6pm. They compromised on 4:30 and actually did it. Done by 5:30!
We learned the word anthropomorphizing means, when you put human traits on objects.
A woman went grocery shopping and found a jacked-up lime, then put it back. She went home, but later on, she burst into tears thinking of the poor little lime and had to go back to buy it. Turns out. a lot of people have a desire to buy messed up stuff because no one else will. Checkout this website for more kooked up produce.
The University of Manchester in England has banned clapping. They want you to do jazz hands instead. Students say it causes anxiety. The move is criticized by people who say the students are too pampered. Our crew thought it was a dumb idea. Read more here.
Vons and Albertsons merged a few years ago.
Photo by Getty Images AUNT EDNA STARTED US OFF TODAY WITH - YOU KNOW YOU'RE GETTING OLD WHEN...
YOU TAKE OUT YOUR HIGH POWERED MASSAGER AND USE IT ON YOUR BACK.
A GRAY PUBE IS GOD'S WAY OF SAYING - START WRAPPING THINGS UP!
I THOUGHT I WAS REALLY TIRED, BUT IT'S BEEN FIVE YEARS SO I GUESS THIS IS JUST HOW I LOOK.
THE OLDER I GET THE EARLIER IT GETS LATE.
WHY DO WE SAY "HANG UP THE PHONE?" NOW I FEEL 90.
I'M NOT SAYING I'M OLD BUT I HAD TO INCREASE MY FONT SIZE TO BILLBOARD.
I'M STARTING TO WATCH THE REALITY SHOW, "SO YOU THINK YOU CAN MOVE THAT COUCH WITHOUT HURTING YOUR BACK?!"
CHRISSY TEIGEN SAID, I'M ABOUT TO MAKE AN EPIC CHICKEN SALAD. I REMEMBER WHEN I USE TO BE COOL.
IF YOU FALL DOWN IN FRONT OF A GROUP OF PEOPLE AND THEY LAUGH - YOU'RE YOUNG. IF THEY GET SCARED AND HELP YOU UP - YOU'RE OLD.
OUR GIRL SARAH HAD AN OLDSTER MOMENT - HAD TO START USING SENSODYNE TOOTHPASTE.
AND EMILY FOUND HER FIRST HAIR ON HER CHIN. UGH!
JUST DON'T DIE AND YOU TOO WILL GET OLD.
Photo by Getty Images
Here's Episode 4 of our uncensored, podcast, The Backwash. It's something new. We record them after the show on Tuesdays and Thursdays. If you have anything you'd like us to talk about, just email DSCbackwash@gmail.com. If you'd like to hear the other episodes, please go here. Our podcasts of the show in its entirety can also be found there.
WE HAD A $5 QUIZ: BOYER VS THE TEAM. LISTENER MARK WON TICKETS TO SEE OZZIE NEXT WEEK AT SLEEP TRAIN AMPHITHEATRE.
QUESTION: MOST MEN HAVE A RAPHE LINE. WHAT IS THAT?
TEAM ANSWER: THE RAFE LINE IS THE LEFTOVER LADY LINE WHEN THE LIPS ARE SEALED
BOYER ANSWER: VERTICAL LINE THAT BISECTS THE CENTER OF THE SCROTAL SAC.
CHAINSAW EXAMINED BOYER'S "LINE" UP CLOSE AND PERSONAL IN HIS STUDIO. THERE ARE TWO VIDEO'S ON OUR INSTAGRAM WHICH YOU CAN WATCH HERE.
THE TEAM WINS!!
AND THIS DISCUSSION INSPIRED A NEW BAND NAME, "STRIATIONS IN THE SCROTUM."
Photo by KGB/iheartmedia
Enjoy our full show podcast below!