DSC 1.17: Crazy Bride Story, Largest Smallest Hollywood Junk, Finish Lyrics
The DSC Show for Thursday, 1/17/19: Crazy Bride Story, Largest Smallest Hollywood Junk, Finish Lyrics and more!
Listen to the podcast below.


These are some of the things we learned today.
ASNR report from Angela this morning for the musical mash-up between the Baby Shark song and Sarah saying, "I'm Pretty. I'm Pretty. I'm Pretty." Best mashup ever. Cherry coke out of the nose. Thanks for telling us, Angela! It's in our mission statement to do every day. In case you don't know,
Longest Government Shutdown ever now on day 27. But the Harlem Globetrotters stepping up to help out. They're offering free tickets to government workers. El Pollo Grill offering free meals. TSA getting free meals at the airport.
No more plastic straws in Del Mar.
Arrowhead Stadium is thinking of changing its name to "Colder Than a Witches Tit" stadium. Sunday's low could go below zero for the Patriots game!
Pats fans are outraged that the Deflategate ref will be working this Sunday.
Japanese robots causing problems for humans, so 240 of them got fired.
China said cotton spouted on the moon - but it died.
Got a cough? Grab chocolate instead of a lozenge.
TV host Chris Hanson was arrested for writing bad checks. He ordered stuff for a marketing campaign and his checks bounced. He said he'd come in to pay the bill but didn't, so they busted him.
Happy 97th Birthday to Betty White!
Photos by Getty Images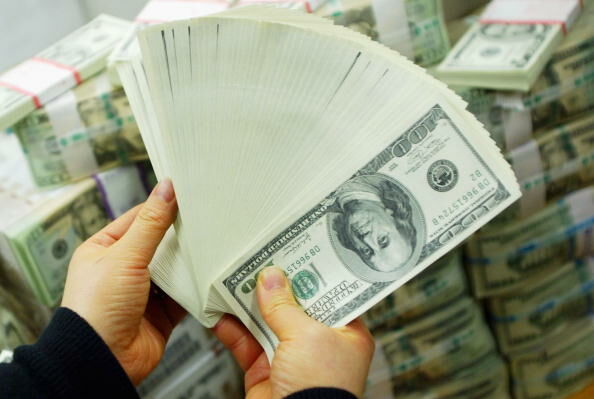 Dave asked, "What's the most expensive thing you can think of that a super-rich person has purchased?"
Emily remembers him telling us Cowboys owner Jerry Jones bought a $250 million yacht with two helipads!
Dave found something he wants to buy at an auction for someone who doesn't deserve it. But claims it would be super cool to be able to buy it without a thought about the cost. It's a Firebird coupe, solar gold, tan vinyl interior, 1 of 3 used on The Rockford Files TV Show! James Garner actually bought this car when the series ended. Dave pictures having a big celebration, then presenting it to - Ruth! Just kidding, he says. But how cool would it be to be rich enough to do stuff like that on a whim?!
Salary.com figures out how much Moms should get paid for all the jobs they do; $162,000 a year, which is up $5,000 from last year.
How much do you need to be rich? A survey found the top answer to be: $90-100,000 a year, while poor is considered earning less than $30,000. 64% think they're neither rich or poor.
Photo by Getty Images
Check out more articles from The DSC Show.