DSC 1.25 - I Hate It, Comedian Cort McCown, Boyer vs Team
The DSC Show for Friday 1/25/19: I Hate It, Comedian Cort McCown, Boyer vs Team and more!
Listen to the podcast below.




Here are some of the things we learned on the show today.
An ASNR was reported yesterday when Dave said Ruth's Dad knocked up her baby sitter. In case you don't know, ASNR stands for Acute Spontaneous Nasal Reflux, which means you laughed so hard, you honked something out your nose.
Emily took a three-hour nap yesterday and slept so late she thought it was 5 AM instead of 5 PM. She got so confused, she thought she was late for work.
We learned all about Stance socks today. But couldn't agree if the dots go on the inside or the outside.
The Patriots mascot was tackled yesterday and had to be taken to the hospital, but he'll be okay. He's already back at another "exciting" Pro-Bowl event.
The Pro Bowl on Sunday will have male cheerleaders for the first time. The crew is not thrilled.
On a recent episode of The Price is Right we see a chick get chosen as a contestant! But … she's in the bathroom when called. They actually waited for her to burst through the curtains, which she did. Drew Carey refused to shaker her hand though. Did ya wash?!
Ozzy Osbourne coughed so hard, he burst a blood vessel in his eyeball. If you haven't seen it yet, just go here.
Photos by Getty Images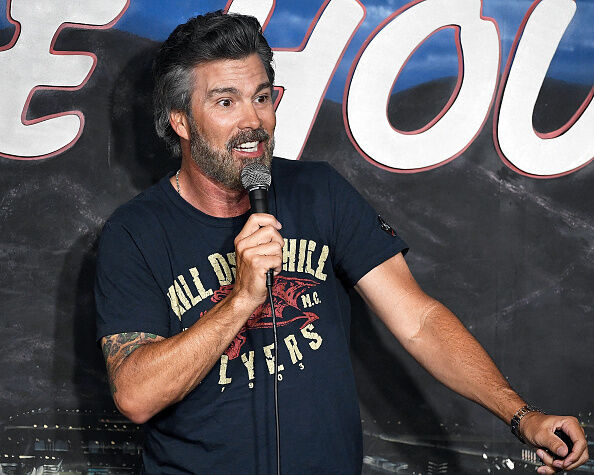 Comedian Cort McCown
comes to San Diego once a year - during the Farmer's Open at Torrey Pines.
That means he stops by KGB for a visit with us and also performs at The Comedy Store in La Jolla tonight through Sunday night. You can hear him on today's podcast starting at 7 am through 7:20. Find out what he was talking about when he dropped this quote on us, "I wouldn't blow a guy for Evian water, but Fiji - now yer talkin!" Use the word "CORT" for a discount at the Comedy Store. Go to Cortmccown. com for all things Cort!
Photo by Getty Images Whadda Ya Hate?
I hate that my girlfriend insists we go on a cruise. I don't want the norovirus.

I hate it when I confuse two words - mixed up narcolepsy and necrophilia.

I hate deleting an hours worth of work on my commuter.

I hate when I'm unsubscribing from email, I hate that it takes me to another page for a lengthy explanation.

I hate when I'm stuck in traffic and my GPS tells me to go a certain road and I find everyone else takes the same route.

Hates when his son moves to NC and he didn't get to say goodbye.

Hates that the liquor stores aren't open yet.

Hates that he has to go back to work after being diagnosed with heart problems.

Hates lifted trucks with giant super bright lights.

Hates the vaping commercial when people complain about smoking. Just quit!

Hates the grammar monster jumping in to correct her all the time.

Hates when you're enjoying your meal in a restaurant and a guy pulls out his snot rag and blows his nose.

Hates when the left tears down Trump.

Hates his homework.. Especially reading.

Hates he has to work and isn't getting a paycheck.

Hates Kansas where it's 26 degrees today.

Hates boating 70 nautical miles to Catalina only to have Popeye drunk before they arrive.

Hates the Patriots in the Superbowl again.

Hates when his wife goes on a diet, he has to hide his junk food.

Hates that his lawn mower conked out.

Hates when you finish a Netflix show and you feel empty inside.

Hates the airlines They overcharge me for every little thing.
Photo by KGB/iHeartmedia
Boyer vs The Team:
Listener Chris playing for Santana tickets. He chose Boyer, so he lost!
Category: Transportation
Question: Your car helps you travel about, but what part of your car travels the most?
Team Answer

: Odometer

Boyer answer: Pistons
Real answer: The Keys
Score: Boyer 11 Team 0 Neither 3
Photo by KGB/iHeartmedia
Check out more articles from The DSC Show.