DSC 3.11 - Worst Splinter Ever, Pants Free, Chainsaw's Dirty Facials
The DSC Show for Monday 3/11/19: Worst Splinter Ever, Pants Free, Chainsaw's Dirty Facials and more!
Listen to the podcast below.
Here are some of things we learned today on The DSC Show on KGB.
Dave started the show wanting to keep positive thoughts. He said we're glad we're not R. Kelly or R. Kraft OR the woman who took a selfie in the jaguar pit. Dumb ass. It's on our website 101kgb.com right here.
The Champagne pyramid FAIL is also on our website here, which you have to watch at least three times, especially if you need to laugh.
Emily had a pants-free weekend to potty train her son, Colt. He ran naked and free, while Emily and Eric wore their undies to encourage him. But, alas, it didn't work. They were supposed to stay home for three days, but Eric couldn't manage it.
"Holy Jesus Balls!" said listener Scott who just looked at the worst splinter of them all! You need to go here to look at it too! It was Sarah's niece, Georgia who was walking on the boardwalk when a piece of board got stuck in the bottom of her foot.
Would you rather: Be the lady taking a selfie who got slashed by the Jaguar OR get the giant toe stick splinter like Sarah's niece did? The whole crew chose the Jaguar! Might be cool to say - look where I got slashed by a jag!
Boyer said today, "You know what they say, David, 'Age in a cage.'" We have no idea what that means. Never heard that one before - ever!
"Facials and Woof Woof" - is the name of the new 'Chainsaw Tribute' band. You have to listen to today's podcast to understand why.
Happy National Napping Day!
Oh yeah .... J-Lo and A-Rod got engaged. Jose Canseco accused A-rod of cheating with his ex-wife. Take a look at her big, ol', rock here.
Photos by Getty Images We were talking about our people having a Sex Bucket List. And Cookie admitted there were only a few good things on his list including giving and GETTING facials.
We were shocked and asked if knew what a facial was. He said yes, until suddenly, his face turned bright red and it dawned on him what that actually meant. We will never let him forget it! This has surpassed the "Ookie Cookie" event.
Your assignment should you choose to accept it, spend 15 minutes a day reading Urban Dictionary.
Angela in NJ reported an ASNR this morning: Water came blasting out her nose which she almost choked on and then got the hiccups!She started to panic - what if they last for 40 years? What will she say happened when they started? It was that time Chainsaw said - out loud - he wanted to GET a facial!
Another listener wanted us to imagine the conversation with Chainsaw's grandkids, "Wanna hear what Paw Paw said on the radio? Ever since he was a wee lad - he wished for a facial."
All of that inspired Dave's new band name,"Facials and Woof Woof," but it's a Chainsaw Tribute band!
Photo by KGB/iHeartMedia Hot new trend: Peep on a Perch!
You're probably familiar with "Elf on a Shelf" which happens approaching Christmas, where an Elf literally sits on a shelf and watches your kids to check their behavior to report back to Santa. Then along came the practice of getting "Booed," where you drop off a basket of candy at Halloween to one of your neighbors. Once someone does it to you, now YOU have to do it to someone else.
Now the family types want you to start yet another holiday tradition in time for Easter. You order the a big yellow stuffed peep, which comes with a book explaining the "holiday." Easter Peep assists the Easter Bunny every year and helps decorate eggs and fill baskets, plus he sees all the acts of kindness a child does in the days and weeks leading up to Easter. It's on sale at Amazon for less than $19.
So this created a Would You Rather: You come home from a long days work and you've been Boo'ed, so you have to go to Target to get some candy and find a family who hasn't been Boo'ed yet? OR Be Chainsaw hoping tonight is the night to get a facial? Dave and Boyer both picked getting Booed!
Read about Peep on a Perch here.
Photo by Getty Images and KGB/iHeartMedia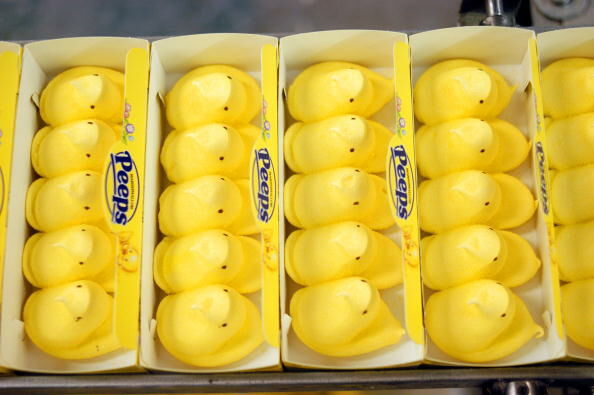 The Top Ten Things People Have on Their "Sex Bucket List"
A new survey found 64% of us have a "Sex Bucket List" that we want to get through before we die. And 26% of those people have already checked at least one thing off their list this year. So it's been an adventurous two-and-a-half months, I guess.
Here are the ten most common things men and women have on their "sex bucket lists."
For MEN, the top ten are: 
Getting-it-on in a car
Getting-it-on in the water
"Backdoor" sex
Having a one-night stand
Using a sex toy
Having a threesome
Having phone sex
Incorporating food
Making a sex tape and
Role playing.
The top ten for WOMEN are: 
Incorporating a toy
Doing it in the water
Getting-it-on in a car
Role Playing
Doing some light bondage
Using a blindfold
Using handcuffs
Trying flavored lube
Having phone sex and
Doing a sexy photoshoot.
So the things that made both lists are doing it in the car, doing it in water, using a toy, phone sex, and roleplaying.
35% of people in the poll said their biggest regret last year was not having enough sex. 
And 57% of us hope to be more adventurous this year.
Photo by KGB/iHeartMedia $5 Quiz: Name is your buzzer: Great classic rock songs with a woman's name in the title.
Bette Davis Eyes - Kim Carnes
Proud Mary - Ike and Tina Turner
Lay Down Sally - Eric Clapton
Billie Jean - Michael Jackson
Valerie - Steve Winwood
Come on Eileen - Dexy's Midnight Runners
Amanda - Boston
Roxanne - The Police
Mandy - Barry Manilow
Roseanne - Toto
Sara - Starship
Lola - The Kinks
Athena - The Who
Hello Dolly - Louis Armstrong
Brandy (you're a fine girl) - Looking Glass
Fanny (Be Tender with my Love) - The Bee Gees
8675309 /Jenny - Tommy Tutone
  ********EMILY WINS ************
Photo by KGB/iHeartMedia
Check out more articles from The DSC Show.